Bella Brand: Invisible Zinc
Last month, Georgia Jagger and Jerry Hall launched hot new Aussie suncare line Invisible Zinc at Selfridges and ever since I've been dying to try out some of the products! The unique selling point of the line is that it actually creates a natural physical barrier on the skin, protecting completely against UVA, UVB and environmental damage. Each product is made from Zinc Oxide which is said to be the best and safest blocking agent from the sun but is invisible when applied.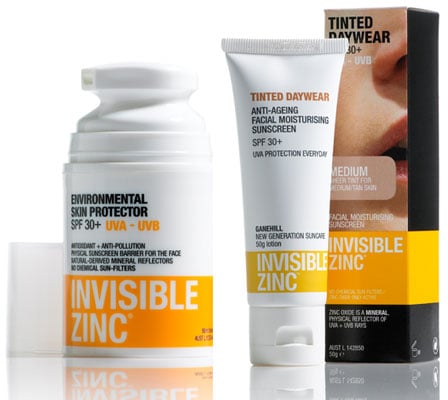 To find out more, just keep reading.
I've been trying out the brand's Environmental Protector SPF 30+ (£27) and Tinted Daywear Light SPF 30+ (£25) all week and am really impressed. The Tinted Daywear is brilliant. It's a makeup product, anti-aging moisturiser and sunscreen in one! (A lazy girl's dream.) When applied, it absorbs quickly giving a gentle even colour. The Environmental Skin Protector was great too. Both have kept my skin safely pale and despite the idea of a 'barrier' they also are genuinely invisible!
Invisible Zinc already has a huge following in Australia where Elle Macpherson and Nicole Kidman are said to be fans. The collection also includes a serum, fixing powder and a special lip balm. The products aren't cheap, but if you're looking for a natural alternative to mainline suncare brands I would definitely recommend it.
Top marks!
Buy Invisible Zinc products by clicking through below
Photo courtesy of Invisible Zinc