Bella Brand Wei Beauty
Bella Brand: Wei Beauty
Beauty bloggers have been on overdrive about Wei Young's new upscale beauty collaboration with Space NK for some time, so I was excited to see the final product range called Wei Beauty, hit the shelves this month, which is sold exclusively at Space NK shops.
Wei Young is known for her cult beauty brand Wei East that incorporates Chinese herbology and eastern medicine into skincare. Her story is quite impressive. She first set up a herb based beauty brand in China in 1993. The business was later disbanded when the Chinese government banned direct selling in 1998. In 2002 she launched Wei East in the US and has made a name for herself on the Home Shopping Network. The brand has been a huge success in the States and is one of the network's best selling lines.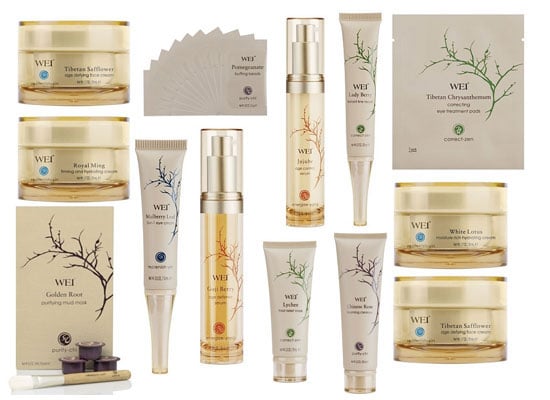 Space NK founder Nicky Kinnaird discovered Wei in 2008 and approached her about a new range for the company. To find out the details of Wei Beauty's story and for more product images from the collection, read more.
The concept of Wei Beauty is a more luxurious version of the mainstream Wei East line, as it incorporating rare and expensive ingredients. The range includes a Pomegranate Buffing Beads in sachets (£15) right up to Ming Firming and Hydrating Cream (£72). They're split in to four categories: Cleansing (Chi), Energising (Yang), Nourishing (Yin), and Perfecting (Zen). All of the products use traditional Chinese medicine theories to create treatments that balance in skin, combat the signs of aging and leave you feeling soft and looking radiant.
I've managed to get my hands on some of the range, and have to say I'm impressed. The packaging for a start feels earthier and is a nice change from the sterile glossy white that skincare products usually come in. My favorite products include the Royal Ming Firming and Hydrating Cream (£72), which incorporates purifying purple nutsedge and Goji Berry extracts to energise skin. It's rich, like butter, but absorbs really quickly and didn't overwhelm my skin. I also loved the Mulberry Leaf 3-in-1 Eye Cream (£50). It's made from mulberry leaf, green tea extracts and soy proteins to diminish the signs of lines. It's expensive, but I find you only need a tiny bit to amply cover the area around the eyes.
For an indulgent night in, the Golden Root Purifying Mud Mask (£30) is amazing. Each mud pod contains the right amount for one face treatment, so you're always getting a fresh batch when you open one up. Plus, it's fun to smear on with the brush that comes as part of the set. Which product are you most excited to try?