Bellisima! Becca Deluxe Travel Toiletry Bag
When I first laid eyes on this Deluxe Travel Toiletry Bag (£40) from Becca Cosmetics, I thought the size was just ridiculous. It seemed big for a travel kit, but something about it kept drawing me back in. Once I got to exploring all the different compartments, I finally just admitted to myself that I do in fact need something of this magnitude. Instead of lugging three small bags for makeup, skin care, and hair care, my life could be so much less complicated.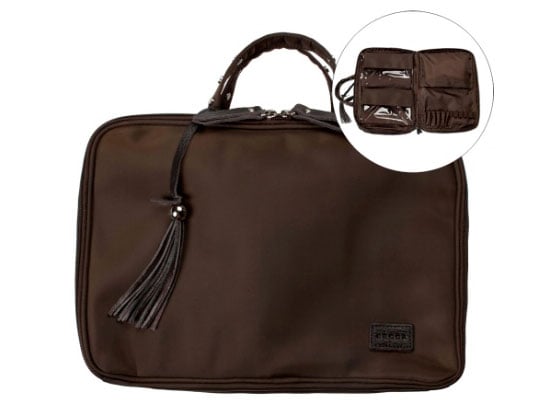 Basically, this is the best travel toiletries kit since sliced bread. The three zippered compartments along with the three open-top pockets, mesh pockets, and open-zip area in the middle keep you impeccably organized, and, in actuality, it's really not that big. I can't forget to mention that the lining is made of water-resistant plastic and the outside is nylon, making it easy to wash if something spills or explodes. It's not pretentious at all in a rich chocolate brown colour. For the £40 price tag, I have no complaints!
Who makes your favourite dopp kit?