Bellissima! St. Tropez Tan Detox
As we know, self tanning has been one of the biggest trends in the noughties and many of you have written in about your streaking, spotting and orange-skinned beauty blunders from self tanning products. Even though some brands have finally mastered the colour (I love a good salon Mystic Tan and Jergens Natural Glow Daily Moisturiser at home), but, we're all still exposed to making mistakes when we apply fake tanners by ourselves. That's why it's amazing to have this new product from St. Tropez on the market called Tan Detox (£25).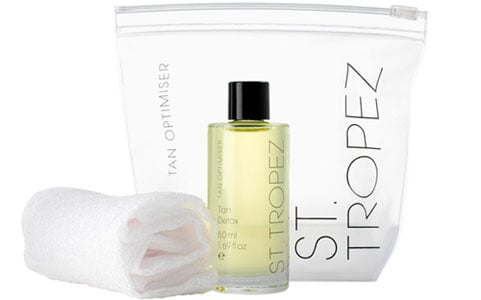 Although it's not intended to correct little mistakes like removing a spot here and there, what it does is give you a fresh start where you can rebuild your tan from scratch. So if you have residue in a few areas (perhaps around the nose, the armpits or behind the knees), this is a great way to remove your "base tan" and begin again. Ahh, talk about a clean slate for 2010!
All you do is add two caps of the lavender, lemon and hazelnut enhanced oil to your warm bath. Get in the tub, relax, and gently massage your body using the exfoliating cloth that comes with the oil to help facilitate the process. When you're finished, pat yourself dry and avoid applying a new application of self tanner for at least 12 hours. The result is soft, supple clean and refreshed skin — of your natural colour!