Belvada Mascara
Beauty Byte: Apply Your Mascara With One Hand With Belvada
Cool beans — there's a new mascara on the market and this one you can use from start to finish with one hand! Montreal-based beauty company owner Dov Grossnass spent the past two years developing Mascara Noir ($25 roughly £16 ), an innovative marker-like applicator that helps eliminate waste and save you time.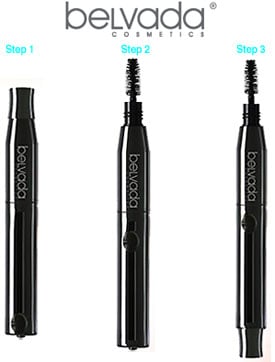 The mascara is packaged in a sleek black container with a cap on one end. When you're ready for action, you simply take the cap off and snap it to the bottom of the tube. Then move the slider to the top to reveal the brush. Grossnass said,

"We want to develop small niche products that are original and create real value. The way it's designed, any excess is easily removed which helps prevent clumping. And because air cannot enter the container, the mascara stays fresh. The pen-style applicator can help achieve much greater control."
Mascara Noir will be available in a few weeks, and later this year we can also expect a concealer and three lip glosses in clear, bronze and pink pearl — all in the same marker-style packaging for easy peasy application. This is a mult--taskers dream come true, however, it's also a bit gimmicky as it doesn't take all that long to put on mascara. Do you think this a product you'd ever buy?