Benefit To Launch Radiant Skincare Range
It's been a while since I've heard some exciting news from a brand that I love, so I am pumped to learn more about the new B.right Radiant Skincare range from Benefit. The nine-skew collection is intended to brighten and rehydrate includes two facial washes, a facial polish, facial emulsion (with SPF 15), a heavier facial moisturiser, an eye cream, toning lotion, makeup remover and facial mist all of which will be launching in two parts: first in April and the rest in May. Benefit Cosmetics founders Jean and Jane Ford told WWD,

"It leaves you so radiant, you'll need a dimmer switch. We believe there are customers still in search of skin care solutions that are approachable, affordable, easy to understand and an upgrade from mass, but not at a doctor-high-tech level. Our skin care strategy is a global initiative and we are firmly committed to maintaining our leadership in the makeup category. We can easily build incremental sales by selling a makeup customer one or two skin care products."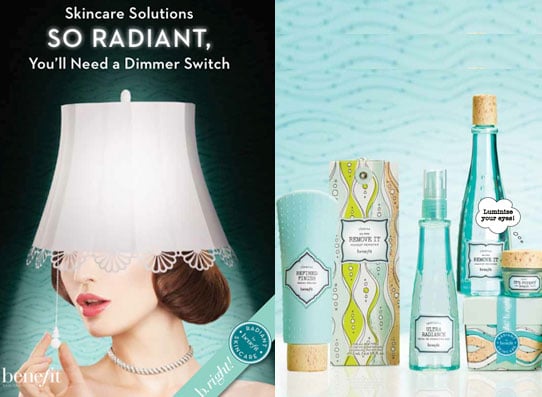 I happen to love the packaging. It has an old-style apothecary look and feel to it made from heavy glass and plastic, with all products falling between a £16.50 to a £26.50 price range. To see more photos of B.right Radiant Skincare, just read more.