Best Hair Volumisers, Hair Plumpers
BellaSugarUK's Top Picks: Best Hair Volumisers
If you guys like ranking things as much as I do, then you'll appreciate my new top picks feature that I'm working on building up. My sister site in San Francisco, BellaSugar US, has done quite a few of these posts, and with so many products on the market to choose from, I thought you might like some insight into my favourite products.
I've already talked to you about self-tanners for the skin, and now I want to talk hair. Since my locks are thin, a little bit weak and most certainly limp, I rely on styling products to help thicken, plump and add volume. My top choice that I always have on hand (I even have a mini version for travel) is Bumble and bumble Thickening Spray (£20). It can be used on damp hair and it adds lift and control without leaving a gummy residue or weighing my hair down.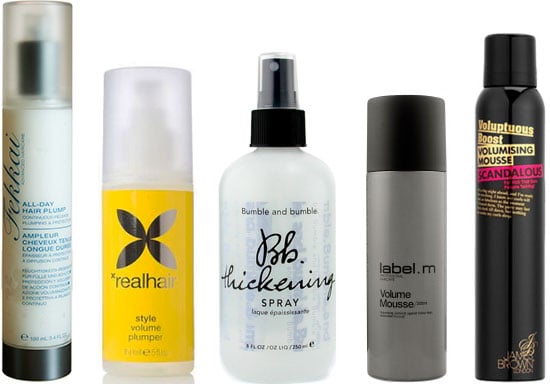 My second favourite hair plumper that I use in conjunction with Thickening Spray is Fekkai All Day Hair Plump (£65). This luxurious cream adds thickness, whilst also helping smooth, strengthen and reducing frizz.
Real Hair Style Volume Plumper (£14) is something I use when I'm looking for a little bit more oomph. Simply spray it directly on your roots when your hair is damp, but a trick that my lovely Ivan (from Real Hair Salon) showed me is that you can also use it to wet your hair at the roots and then blow dry it again for extra volume.
To read my last two top picks for hair volumisers, read more.
I've been a fan of Label M Volume Mousse (£10.50) ever since I tried it at fashion week. Since it contains silicones and SPF, it helps shield hair from the sun and from heat styling. Start with a two-pence sized amount and work from roots to lengths.
The best part about James Brown London Voluptuous Boost Volumising Mousse (£4.99) is the price. It's not sticky or tacky, it washes out easily and it won't break the bank. I like to blend it at the roots for lift, but you can also use it all over to create thickness and that sexy bed-head volumunious style too.