Best Spas in Rome
Little Black Book: Hotel de Russie
Walking into the Wellness Zone at the Hotel de Russie in Rome, Italy, I was overcome with with the feeling of luxurious calm. The serene spa (you won't be able to talk on your mobile phone here) hosts treatment rooms, a comfortable reception area and an over-sized jacuzzi with built-in lounge chairs for the optimal 'chilaxing' experience.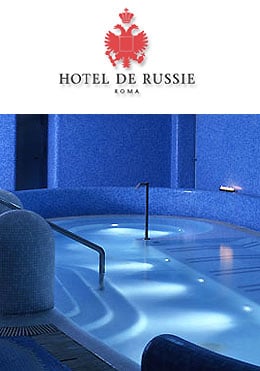 They use and sell four different brands in the spa, namely Carita (a prestigious skincare line from Paris), Dècleor, Skinceuticals and their specialty treatments feature products from a coffee based lined called Body Coffee Brand.
Their signature treatment, a Body Coffee Exfoliation Experience, uses the energy from the caffeine in the coffee beans to awaken your senses, relax your muscles, exfoliate your skin (from the grinds mixed with sea salt) and stimulate your circulation. Did I mention that it finishes with a galam butter and aloe vera massage? The treatment lasts for 50 minutes and costs €110.
As you may expect, pampering yourself in the Wellness Zone, like most high-end spas isn't cheap. Prices range from €25 for a pedicure to €410 for a full day of Wellness Zone pampering, but boy was it worth it to have the chance to unwind after a long day of sight-seeing and eating pasta!