Beth Ditto Hair, Beth Ditto Makeup 2009-10-29 06:00:00
Halloween How-To: Do Dramatic Goth Like Beth Ditto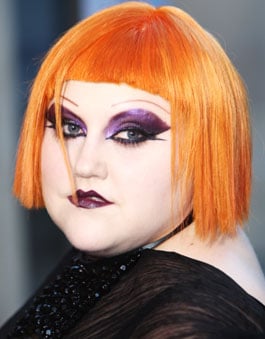 Leave it to Beth Ditto to make massive amounts of creamy metallic purple eye shadow look acceptable. Her pale skin is contrasted by dark lipstick, on-trend eyes and ahh yes, that fiery orange-red hair!
Talk about someone who's not afraid of a little colour. Beth really knows how to rock out with different looks, and this particular style is a bit more goth than glam. Why not dress up as Beth or any of these other fab pop stars this Halloween?
Shop Beth's beauty look for hair and makeup ideas below!