Black Powerpuff Girl Bliss Makeup Look
A Makeup Artist Just Shut Down Racist Comments About Her Black Powerpuff Girl Look
For nearly 20 years, The Powerpuff Girls has stood for sugar, spice, and everything nice. We've cheered on the trio's badass behaviour since the beginning, but we especially celebrated when Cartoon Network announced that the show has added a new Powerpuff Girl named Bliss to the squad. Bliss happens to be black, since repping girl power and kicking villainous booty aren't confined to just one race. Animation-lovers around the world applauded this example of inclusive representation, and one beauty junkie in particular had an amazing response.
"WHEN YOU FIND OUT THERE'S A BLACK POWERPUFF," artist Amarie Proctor captioned an Instagram picture of her rocking a Bliss-inspired look of dramatic purple winged liner and mint-green tear-duct eye shadow. "I'm so happy. I got inspired by her beautiful ass," Proctor wrote. She looked every bit the superhero, and for the most part, Proctor's picture was flooded with compliments.
But, unfortunately, as BET noted, Proctor's makeup look was met with some harsh criticism. As the comments flooded in, a disturbing amount of people decided that Proctor's Instagram homage was the perfect place to complain about the addition of Bliss.
"We had been waiting for this to happen since forever," Proctor said.
The problematic comments attacked the character because she doesn't look like the preexisting Powerpuff Girls. One person wrote, "I'm kinda upset about how she's so much bigger than the other three girls." Another critiqued her blue 'do, adding, "All I ask is that they give her brown hair."
But the most infuriating comments came from those who attacked Bliss's race: "If they wanted equality," someone wrote, "they should've made a new cartoon with all characters who are different race not ruin the famous trio." Someone answered that with, "They added the character for no reason and made her black so it would get ratings up."
Proctor has called those who commented negatively on her post "racists," because the people are resentful of a fictional character just because she's black.
"I honestly just couldn't believe that people (specifically white people), were so upset by it," she said. "As an African-American, you dream of things like this." However, Proctor was able to shut out the hate and focus on the empowering way Bliss is already inspiring a new generation of makeup enthusiasts.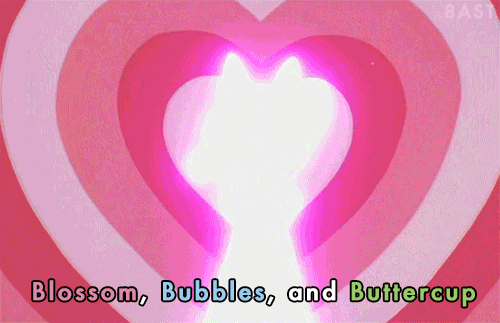 Image Source: Cartoon Network
"We had been waiting for this to happen since forever," Proctor said. "There was a person that DM'd me saying, 'Even though there is a lot of hate, I just want you to know that my daughter saw your post and she wants to be Bliss for Halloween.'"
Here's to hoping for an Instagram feed full of Blisses this October — and zero hateful comments.