Bliss Blood Orange + White Pepper Sugar Collection
About a month ago, Bliss launched a delectably smelling three part Blood Orange + White Pepper Sugar collection of bath and body products. The range includes a silky Body Butter (£23), an invigorating Bath and Shower Gel (£16) and my favourite, a gritty Sugar Scrub (£28).
This ooey gooey exfoliator is both sweet and spicy. It's not as peppery as I would have thought, but it has just enough kick to make it a more stimulating than sacharrine. The texture can best be described as honey mixed with sugar in the raw, but once you start to massage it into your skin, it transforms into more of a foamy consistency (how cool is that).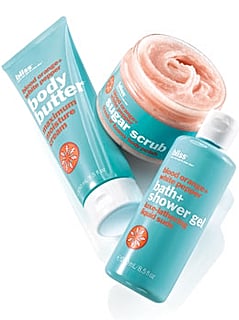 The stickiness dissipates and what you're left with is a hearty, grainy exfoliant. The result is smooth, hydrated and soft skin with a fresh, citrusy essence.
The scrub contains Vitamins A, C and E to help protect your skin from free radical damage, coriander and white musk to create that perfect cocktail-inspired fragrance and sunflower oil to nourish dry skin.
I'm totally taken with this scent, and according to Bliss' website, it was chosen as their winning fragrance in 2008 (40,000 people voted). Out of these three products, which do you think you'd most like to try?
For close-up images of each of the items, read more.