Blonde Bombshell Beauty Definition; Jean Harlow to Debbie Harry, Madonna, Jessica Alba and Christina Aguilera
Beauty Glossary: Blonde Bombshell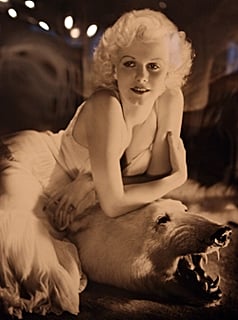 Bombshell, knock-out, dynamite; these war metaphors are often used to describe a particularly attractive and glamorous type of blonde. The phrase was first used to talk about film actress Jean Harlow. Her movie Bombshell was released in the US in 1933. The blurb that went along with the adverts stated "Lovely, luscious, exotic Jean Harlow as the Blonde Bombshell of filmdom." By the time that the film was released in the UK the term had become widely used and the film was retitled Blonde Bombshell for a captivated British audience.
Jean was also popularly known as the "Platinum Blonde" and this early sex symbol spawned a generation of women who didn't want to be 'naturally' sun-kissed blonde and wholesome; rather they craved that pale, moon-coloured hair that looked more dangerous than homely. Marilyn Monroe is another example of a screen siren blonde bombshell and while the term is sometimes used to describe any attractive blonde, it is still associated with white-blonde hair that signals eroticism and danger.
For which stars deserve this accolade, plus how to keep platinum hair looking good, just read more.
In the last few decades, blonde bombshells would include the "I wanna be a platinum blonde" singer Debbie Harry, as well as a peroxide-haired Christina Aguilera. Madonna has been through this phase with her hair, while last year Queen Latifah went for a daring, and actually very flattering, bleach blonde style. There's also the bottle-blonde socialite that Jessica Alba plays in her latest film Easy Virtue, whose shocking past is only to be expected when you think of the colour of her barnet.
Be warned, this type of hair is certainly jaw-dropping but that bright white shade is only achieved by stripping the hair completely of it's natural colour. If you have, or are looking to have, this colour on your locks then bare in mind that it works best on pale compexions. Plus make sure to use a conditioner especially formulated to remove the brassy tones in hair, such as Aveda Blue Malva Conditioner (£17). Are you tempted to become a blonde bombshell?