Blondes Make Better Girlfriends, Brunettes Make Better Wives. Photo of Charlize Theron versus Angelina Jolie.
Blondes are Better Girlfriends, Brunettes Make Better Wives
It seems old-fashioned, but that old adage that gentlemen prefer blondes may actually be true. At least when they are looking for a girlfriend or someone to have fun with. Brunettes, on the other hand, are still a safer bet when looking for a wife, according to new research. The poll was conducted by hairdresser Andrew Collinge's company and surveyed 3,000 British men.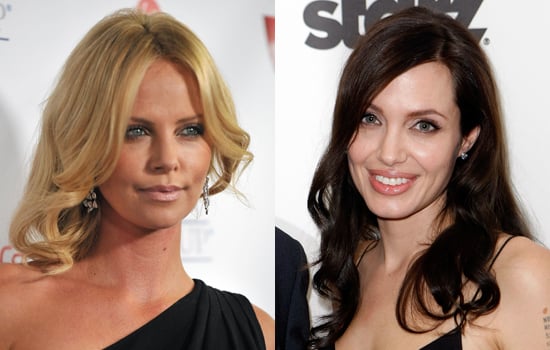 The majority revealed that when it comes to marriage, they prefer a brunette as they are seen to be more loyal and level-headed. Just as in the recent film Easy Virtue, the blonde bombshell (aka Jessica Biel) is all well and good for a fling but when it comes to settling down to her wifely duties, Ben Barnes' character starts to wish he'd married the more down to earth brunette next-door instead.
For how men responded to the blonde versus brunette debate, just read more.
The male of the species apparently believe blondes make better girlfriends. One in five said that honey-hued locks gave girls a sexier edge. Plus there is still the belief that light hair comes complete with a fun-loving and bubbly personality.The survey also showed that nearly half of those quizzed believed dark tresses guaranteed a more loving partner.
Collinge commented on the results saying,

'It's always been said that blondes have more fun and men obviously enjoy going out for dates with blondes as well as upgrading them to girlfriend status. But when it comes to marriage, men seem to opt for brunettes as they see them as more dependable and down-to-earth. This is really surprising when you think we're in 2008 and the blonde versus brunette debate is still rumbling on. I'm surprised as I thought men were more modern than this! I'm obviously in the minority as I married a blonde."
I have to admit it does seem slightly ridiculous, especially as most girls I know have been blonde, brunette and red heads at various times over the years. As a natural brunette who's now dark again, I do have to admit that as a blonde in my early twenties I did get more attention from men. At least, the head-turning count was higher, though I'm not sure that is really the sort of attention you crave.
The idea that brunettes are safe and dependable seems incredibly out-dated. Plus the thought that men still seem to associate hair colour with personality is slightly depressing. How about you, what do you think of this news?