Blood Concept Fragrances Complement Your Blood Type
Just in Time For Breaking Dawn Is the Scent of Eau de Blood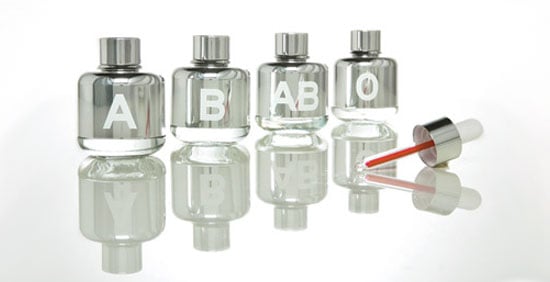 A Milan-based perfume company launched a niche and totally unique style of four fragrances earlier this year called Blood Concept. The concept behind these unisex scents might surprise you, as they weren't inspired by florals, woods, or spicy oriental notes rather they have been designed to complement your blood type and contain their own set of metallic notes.
Type A contains green garden accord, basil, tomato leaves and star anise. Type B is a spicier scent with apple, black cherry, artemisia, pomegranate, black tea, patchouli, pepper, and wood. Type AB has a mineral aroma containing a blend of aldehydes, aluminum, pebble, slate, and cedar whilst Type 0 has a hint of leather, thyme, raspberry, rose hip, cyperus esculentus, cedar, and birch.
The fragrances are each available in 40 ml droppers and cost £115 each. Would you be interested in finding out for yourself what Blood Concept is all about?