Bobbi Brown Brights Collection
Coming Soon: Bobbi Brights
Get excited, because this March, Bobbi Brown will release a cool new., limited-edition eleven-piece makeup collection called Bobbi Brights. Based on bold flashes of colour that anyone can use to spruce of their everyday natural makeup look the line is all about having fun!
It consists of four new shades of creamy lipsticks (£14 each), six, sheer lip glosses that are packaged in pans (as opposed to tubes) so that you can apply them with your fingers (£13 each), and the star product is the Brights Palette (£49) that contains 35 shades of mini-matte eye shadows — a playground for the adventurous!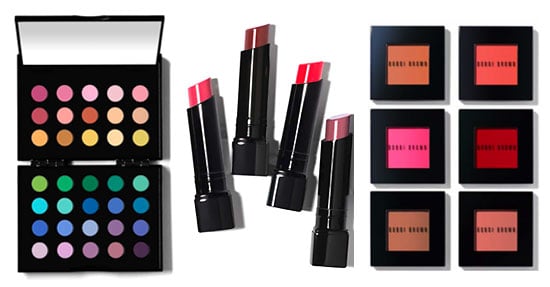 The palette folds out and has three parts: two sides of shadows (that remind me of the button sweets I once ate in America) and a mirror. I've been playing with the pinks, greens and blues especially, and what surprised me most, is that by mixing them with the pale shades, they're more wearable than I'd expect. I love being able to customise my own colour and create a different look each time I open it up to play. Do you fancy a pop of colour on your eyes?
To see the collection close up, read more.