Bobbi Brown Face Lift Collection
A Face Lift Has Never Been So Easy!
Brand new from Bobbi Brown is a seriously barely there collection called The Makeup Face Lift. The range includes five new products, two older, limited-edition goodies that are now staples, and one fabulous yet existing pot rouge shade in pink truffle to complement the range. The line was created to give lift, rejuvenate and put life back into your skin with a few neutral-toned products in just a few minutes. It's a perfect launch for the new year, as results are instant and incredible (if I don't say so myself). Bobbi says,

"I designed this collection to give women all the tools they need to look instantly well-rested and bright-eyed — in five minutes flat."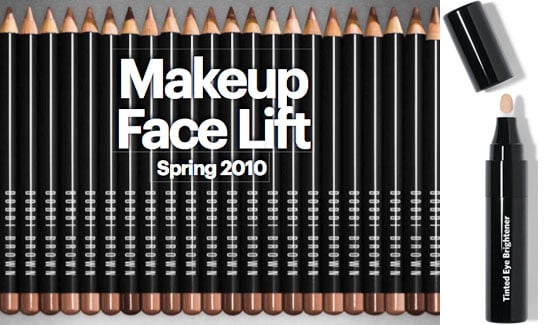 The star product is a Tinted Eye Brightener (£22) that once came in three shades in a messy pot, but has now been revamped into a pen-like tube available in eight shades. I also adore the creamy Brow Pencils (£13.50) because they turn to powder once they set. They blend really easily and make a huge difference when it comes to creating overall definition.
Also, get excited for Bobbi's Pretty Powerful campaign which is due out soon. This is a collection of photographs and interviews of real women that have inspired Bobbi with their sense of self and their appreciation for cosmetics. They are seen posing in before and after photos which you can check out in a video here. Fans will be able to submit home videos primping with Bobbi Brown products in the hopes of winning a full kit along with The Color Strips Collection — amazing! For now, to find out details and prices of each of the products in the Makeup Face Lift Collection, read more.
Tinted Eye Brightener: (£22) is a quick and easy solution to dark circles and tired looking eyes. It has a lightweight formula and helps to keep you looking refreshed. Available in eight shades.
Brow Pencils: (£13.50) are a must-have for creating structure on the face. Available in five shades.
Pale Pink Powder Blush: (£16.50) helps invoke a wide awake and brightening look on your cheeks. Dust it gently to the apples of your cheeks and blend well.
Extra Eye Repair Cream: (£35) is an extra special soothing cream to help nourish dry and tired eyes. It's packed with peptides, natural plants, oils and humectants to help target wrinkles, dark circles and puffiness.
Brightening Lip Gloss: (£14) is a light reflecting, super shiny lip lacquer available in two shades: Popsicle (pink) and Nectar (peach).
Soothing Balm: (£38.50) is a perfect finishing touch to make your skin look smooth and dewy.