Bobbi Brown Nudes Collection
Bobbi Brown Just Keeps Reinventing The Basics
Far from the MAC's and the Shu Uemura's of the world, Bobbi Brown's neutral makeup palettes have made and kept her famous for nearly two decades. Every once and again she'll veer into bright colours or punchy sheers, but for the most part, modernising her trusty camouflage browns, greens and creams are her signature. Bobbi says, "Nude doesn't mean monochromatic, barely-there makeup. It means makeup that's right for your skin. Nude makeup never goes out of style — it's polished, sophisticated and always looks modern."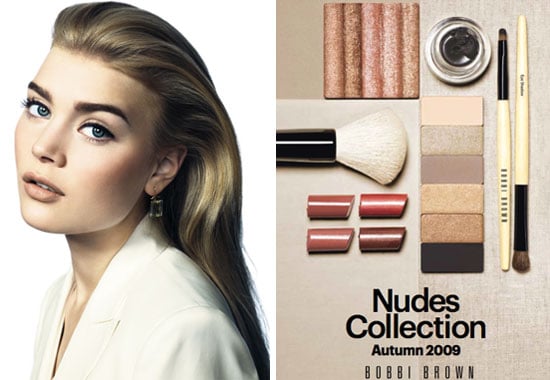 That's why her latest launch, the New Nude Collection for Autumn 2009 is a collection of perfection. It's comprised of a six shadow eye palette, four creamy lipsticks (one is even called Twilight — how funny) and a dark brown cream liner. However, perhaps the star product is the Nude Shimmer Brick. We've seen this long-time fave in an array of shades before, but this nude version acts like bronzer/highlighter all in one. It's beautiful and can be worn on the eyes, cheeks, over blusher and even on your body for a touch of sparkle. For more pictures of the New Nudes Collection, plus pricing and a description of each of the items, read more.
Nude Eye Palette: (£42) is an Autumn must-have. It's sleek and easy to travel with. Inside it contains six neutral shades of creams, champagnes and browns that can be worn day or night. There are three textures; soft matte, lightly pearlized, and metallic.
Nude Shimmer Brick: (£29) is now available in an array of nudes. It's stunning as it contains five pearlized colours of pink, gold, bronze, beige, and caramel. Each of the colours can be worn alone or blended together for a soft glow.
Creamy Lip Colour: (£15) is an old formula with four new moist and rich shades in Soft Blush, Rose Bud, Rose Garden and Twilight — a brown nude. I wonder if Robert Pattinson was Bobbi's inspiration?
Caviar Ink Long-Wear Gel Eyeliner: (£15) is a brand-new, deep, dark brown shade that can be applied with a brush.