Bobbi Brown Pot Rouge Pink Truffle and Calypso Coral. Beauty Trend Autumn Winter 2008. Healthy Coral and Pink Blush
Product Review: Bobbi Brown Pot Rouge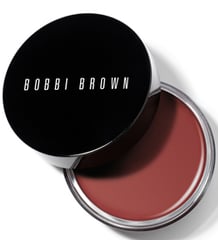 Bobbi Brown's Pot Rouge formulations for lips and cheeks, (£16), have become something of a cult product recently. These handy little tubs are ideal for stashing in your draw at work for when you want a quick touch-up and they're perfect clutch bag must-haves. I've been trialling the Pink Truffle shade (pictured) and a friend has been testing Calypso Coral to great effect. All through summer and into the autumn everyone said I'd never looked so healthy, while my friend got heaps of compliments about her in-love glow.
The sleek packaging got lots of admiring glances and while both of us pale-skinned girls were initially dubious about the dark pink and coral shade on our skin tones (although a dark skinned friend of mine loves Calypso Coral) we were pleasantly surprised. For why, just read more.
The product has a fantastic consistency and glides on easily. It really is a case of you get what you pay for with cream blush and just a tiny bit goes a long way. If you're pale you'll definitely have to learn to blend it well but once you get used to the pat pat, blend blend routine the colour looks fantastic. It was as though the glow comes from underneath your skin, rather than being painted on top. If you have dry skin then be sure to moisturise first and let it settle in before applying with fingertips.
Personally, the Pink Truffle colour was great on lips and cheeks but my friend preferred Calypso Coral on cheeks only to avoid that Malibu girl effect. Coral can be tricky, but it'd work well on lips and cheeks for blondes or if you have dark or asian skin and brown eyes. I tried it with a fake tan for a wedding and it looked amazingly fresh and youth-enhancing. My friend who'd never used a cream blush before was quite shocked at how well it lasted and it's true – you barely need to reapply through out the whole day. All in all, a great go-to product for an instantly pretty effect.