Body Illuminators, Body Shimmer
Add a Little Shimmer To Your Summertime Shimmy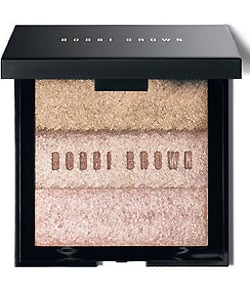 I was never a big endorser of body bronzers in year's past, but with the launch of this over-sized, dazzling and just the right amount of sparkly Shimmer Brick For Body from Bobbi Brown (£50), I'm totally addicted.
You apply it with the biggest, fluffiest brush that you can find and go to town on your legs, abs, face, decolletage and shoulders. It gives you a gorgeous tinge of tan, with a generous amount of radiance and no traces of orange or glitter whatsoever. It's sublte, sexy and the ultimate body must-have product for Summer.
I'm also a fan of Model Co's Airbrush Illuminiser (£28) because it provides a touch of twinkle with an easy and fun to use mess-free mist applicator. Below are a few other body illumisers that I also think you'll enjoy. Shop away and don't forget to leave a comment letting all of us beauty junkies what your preferred shimmer-enhancing body product is!