Brides Book Botox For Birdesmaids En Masse for Wedding at Botox Parties
Botox Bridesmaids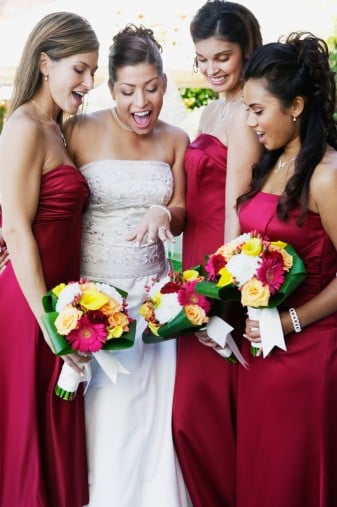 Now it's no secret that celebrities and models like to binge on the botox, to keep their faces looking super-smooth – some will even admit to it. But now, it seems that brides-to-be are booking botox en masse – for all their bridesmaids!
According to the New York Times, this new trend comes partly from women getting married older, partly because of the popularity of posting all the bridal pics straight up on Facebook – for everyone to see – and also just because having botox is increasingly becoming seen as a normal part of a beauty regime – at least on the American side of the pond.
Now I'm very much on the fence where botox is concerned – I think it's entirely a matter of personal judgement, but I do believe that if every other girl in the bridal party was getting 'a little something done' then it would be hard to resist the pressure, even if it was something you didn't want to do. One girl interviewed in the New York Times article, was even tried to be forced into getting a boob job – so that all the bridesmaids had the same cleavage.
I went to a wedding last weekend, and all four of the bridesmaids were different shapes and sizes – the youngest was seventeen, and the oldest thirty-four, and they all looked beautiful. It didn't matter that they weren't cookie-cutter matching, they looked pretty and radiant in their own skin – and most importantly, happy to be there for the bride. So, beauty isn't really that skin-deep, after all?
If you were asked to, would you get a cosmetic treatment for a wedding?