Brideshead Revisited 1920's Twenties Hair Trend. Runway Catwalk Slicked Back Hair.
Beauty Glossary: 20's Slicked-back Hair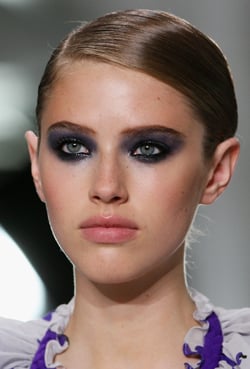 While girls wore their hair in cute bobs or wavy flapper girl style, mens hair in the 1920's was super simple. Hair was slicked back with gel for a formal look that was thought to be both masculine and also elegant. Think of The Great Gatsby or the new Brideshead Revisited film and you get the picture.
Using an early form of gel, called brilliantine, hair was generally slicked straight back and kept short on the sides. The top layers were left longer, but they were combed back and greased with tonic to provide a sophisticated look. Alternatively, the hair had a slightly off-side parting and was slicked back and to the side for a distinguished appearance that is probably what springs to mind when most people think of the roaring 20's.
This masculine look inspired the most fashionable women's styles of the times too. Compared to the poufy big hair dos of the 1900's the 20's was all about slick bobs and boyish hair. If the catwalks are anything to go by, then this masculine 20's style hair is going to be big news for next spring for both the girls and the boys. Think of the slicked back hair at the Jean Paul Gaultier and Karl Lagerfeld shows this week in Paris, while London Fashion Week gave us the quintessential 20s hair look at Temperley. Seems like we're looking back to the future for next season.