Brit Awards Makeup
How To: Get Fearne Cotton's Brit Awards Beauty Look
Call me crazy, but I'd have thought that you guys would be gone gaga over a more outrageous beauty look from last night's Brit Awards. However, 73 per cent of you loved TV personality Fearne Cotton's makeup and thought she looked pretty, polished and classy. As I'm one to typically err on the side of caution myself, I'd agree that Fearne's skin and eyes look particularly beautiful here. This is a look that can be worn day or night.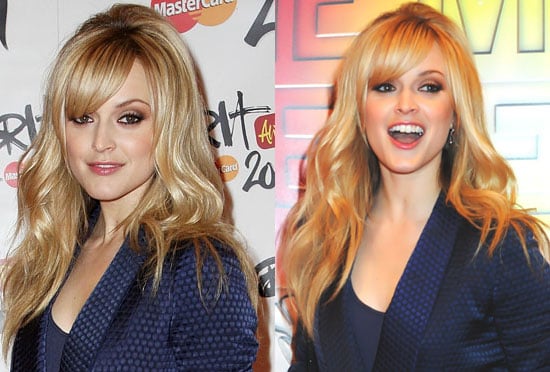 Getting her makeup style is super easy too, even you beauty novices will be able to follow the application techniques and product suggestions that I've listed after the jump. For all of this and more pictures of Fearne from the red carpet, read more.
FACE: Begin with a clean and well moisturised face. Then using a brush or sponge, apply a matte foundation all over. Next, dab a bit of concealer under your eyes and to any red areas or spots, blend and then add a touch of brightener wherever necessary.




EYES: Start by using a makeup primer on the lids to hold the colour. Then, sweep a fleshy, cream-coloured shadow over the entirety of the lid. To make your eyes really pop, add a matte, medium brown shadow in the crease and blend using a windshield-wiping motion. Next, use a caramel shadow just above and below the crease and again, be sure that you blend well. Use a chocolate brown liner on the upper and lower lash lines and line the inner rims of your eyes with a black pencil. This trio from Bare Escentuals is perfect for this look. Finally, add two coats of your favourite mascara and a few false lashes in the corners if you want to dress things up.




CHEEKS: Look in the mirror and smile. Apply a powder pale peach blush such as Georgia from Benefit to the apples of your cheeks and pull the brush upwards and outwards until you reach your hairline. Add more if the colour is too light, but make sure that you don't overdue it, as the goal here is to add a touch of warmth to the skin.




LIPS: You'll never find a lip look that's easier to create than this! You can either apply a shimmer free pinky-nude gloss all over, or create your own pinky-neutral concoction with this awesome Liplingo palette from DuWop.