Cabin Crew Beauty Tips
5 Beauty Tips Emirates Cabin Crew Swear By When Flying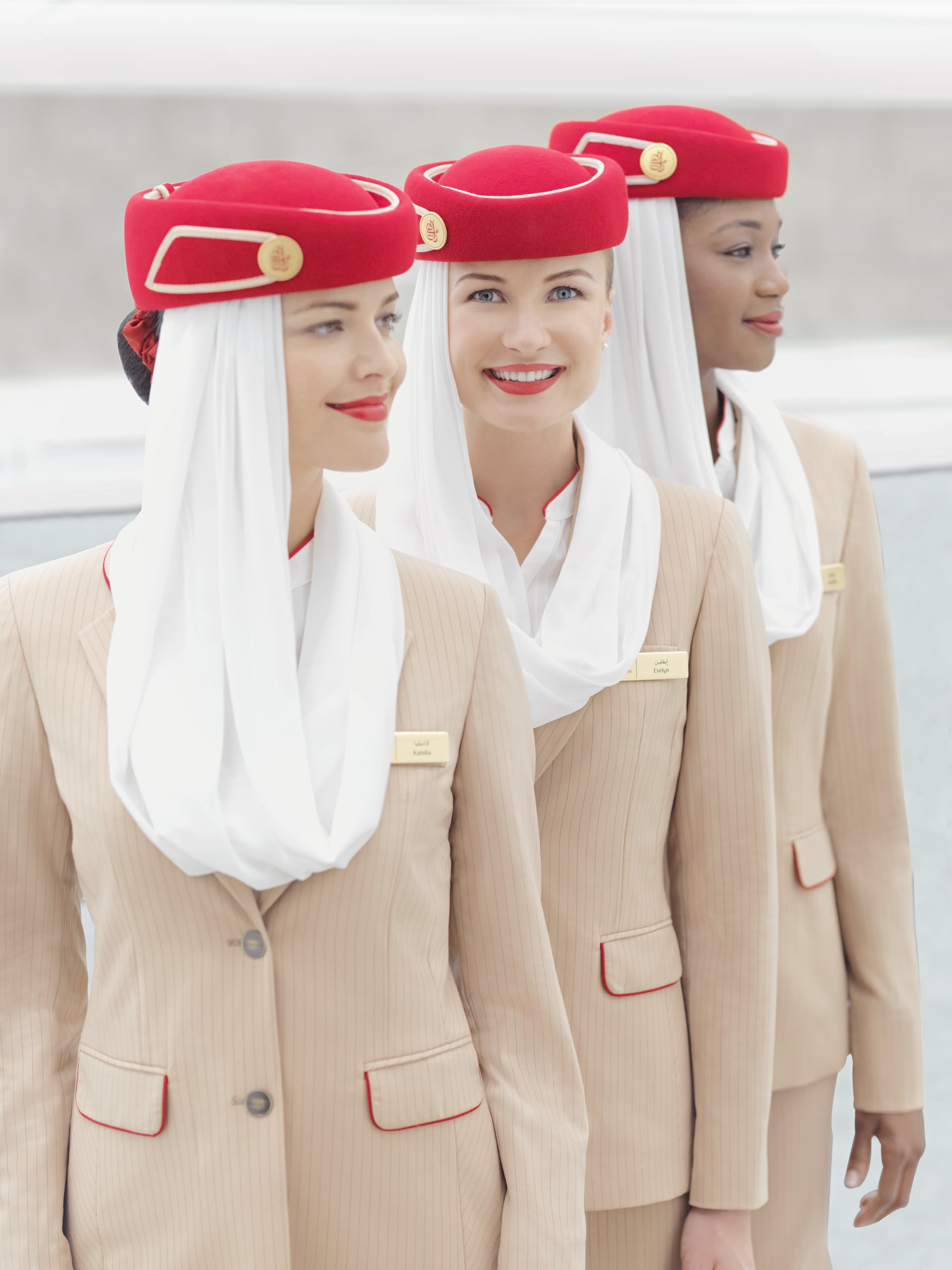 Has anyone actually found the perfect skincare routine to get them through the dry environment at 30,000 feet in the air? Since I haven't yet, I'm always on the hunt for the top tips and tricks, and who better to ask than cabin crew? It's literally their job to be experts of the air. The cabin crew at Emirates shared their top tips for keeping their skin hydrated and looking fresh during flights.
On Keeping Skin Hydrated Whilst Flying
The crew said that they use a good face mask two to three times a week as it helps to keep skin in good condition by maintaining hydration. As well as this, they use rose water and mists during the flight, either using a spray bottle with DIY rose water or a mist to spritz throughout the journey. It's a supereasy way to maintain hydration both under and over makeup on the go. We recommend Pixi Makeup Fixing Mist (£16), which contains rose water and green tea to keep the skin feeling awake.
On Keeping Makeup Fresh Whilst Travelling
Ever noticed how perfect the makeup of cabin crew looks even after a 12-hour flight and wondered how on earth it all stays in place? They explain that prepping well is the key to keeping your makeup in place. Moisturising the skin well before applying makeup will ensure no dehydrated skin at your destination. To keep their makeup immaculate when travelling, the cabin crew recommend Nivea Cleansing Milk (£4) followed by Dermalogica Active Moist Facial Moisturiser (£45), a personal favourite of mine when travelling too. Then before and after makeup application, use MAC Prep and Prime Primer (£10) to keep makeup fresh and fixed. It even comes in a travel size!
On Staying Fresh and Awake on a Long-Haul Flight
Hydration is key, and it's not always about what you put on your skin; drinking as much water and green tea as you can during a flight will help fight fatigue and dull skin too. Drinking green tea rather than coffee will keep your caffeine levels up without dehydrating. Snacking on fruits rather than sugary snacks is another simple but effective way to make sure your skin doesn't show signs of fatigue.
On Changing Makeup From Day to Night
Cabin crew obviously get to travel far and wide, so their journey is rarely over after the flight is over. Arriving at a new destination means they have new cities to explore and they often don't have time to completely redo their makeup. If you're planning on doing the same as soon as you touch down, the crew have shared tricks for staying fresh after the flight. Their tip is to travel with a very natural makeup look during the day, updating this with some heavier eyeliner and a bold lip later on. To keep your makeup natural and dewy in flight, we recommend Dr Paw Paw Tinted Balm (£7) and Winky Lux Glitter Balm (£13) for a minimal glossy lip. After touchdown, try a deep lip colour like Rimmel London Lasting Finish in Retro Red (£7).
Top 3 Beauty Essentials For Flying
If you don't want to carry specific in-flight products but are looking to still maintain hydration, the cabin crew have let us in on their three top products to keep in your hand luggage. Pure coconut oil is the first product due to its versatility, as well as pure aloe vera gel for the same reason and because of its natural moisturising properties. It's also a great travel product if you accidentally get caught out in the sun too long! And finally, rose water as it's an anti-inflammatory and has the ability to reduce redness and irritated skin.