Cartrysse Soothing Hydra-Fluid Moisturiser for Sensitive Skin. Synergy Aromatherapy
Product Review: Cartrysse Soothing Hydra-Fluid Moisturiser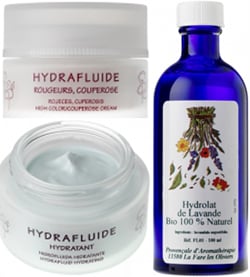 In the beauty journalism world, products can be pretty much divided into the big name brands that you get sent for free and which everyone knows and loves, and the smaller, niche labels. These are the ones you've discovered due to some painstaking research or a personal recommendation from a real friend. Cartrysse falls into the latter category and I can not overstate how much I believe in this cult brand.
It works on the principle of synergy aromatherapy, which is basically using different essential oils in exact measurements. This way the oils not only complement each other, but also unleash each ones maximum skin-healing potential.
Cartrysse is a godsend for sensitive skin in particular and the 100% pure ingredients (there are no chemicals in these products at all) means it's like a fresh fruit, organic diet for your skin. The Soothing Hydra-Fluid Moisturiser, (£35), is without doubt the best moisturiser I have ever tried and believe me, I've used a lot of face creams in my time!
The cream left my sensitive skin glowing and smooth. Every morning was like having just had a facial. When combined with Cartrysse's Pure Lavender Toner, (£12), and Super Fruit Cleanser, (£19), my skin looked clear, fresh and radiant.
For why just read more.
The moisturiser's list of ingredients reads like a tribute to the wonders of aromatherapy. Blue camomile hearts soothe and calm the skin, palmarosa oil strengthens the skin tissue, santal de mysore (the most effective form of sandalwood) regenerates skin cells, cypruss oil boosts circulation and decongests the skin, whilst rose oil promotes balance to sensitised complexions.
As an aside, I just want to add that I was initially sceptical that an aromatherapy cream could do as much for my skin as one filled with high-tech ingredients and the latest formulations. I'm definitely won over now though. For the skin, sometimes less really is more.