Catwalk Runway Beauty Trend Tomato Red Lipstick on Models at Michael Kors, Betty Jackson and Miu Miu.
Trend Alert: Tomato Toned Lips
The makeup pros turned to the culinary world for inspiration as they painted lips in hot tomato colours. For Autumn/Winter Miu Miu (below left) showed dark ketchup-coloured lips that were ultra glossy for eat-me appeal. Meanwhile next Spring is all about the orange-red, squashed tomato hue. Messy, matte mouths looked super modern at Betty Jackson (below right) when teamed with retro fabric hair bands and mussed-up hair.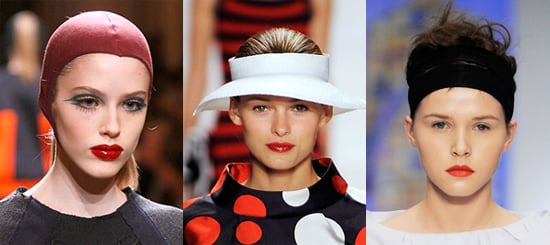 Similarly at Michael Kors the near-fluro lips were balanced with dark brows and bright white visors for a fresh look. Unlike the classic blue-red toned lipstick, this new red pepper shade doesn't need a little black dress or a red-carpet to feel at home. Keep skin dewy and go easy on the eye makeup. A little fruitiness goes a long way.