Catwalk Runway Beauty trend Super Skin Supernatural Beauty. Photo and How To Get The Models' Look.
The-Beauty-Pages Guest Edit: Superskin Trend Alert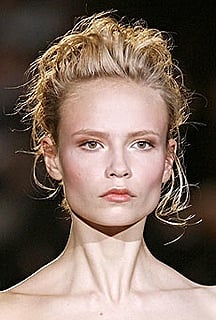 One of my favourite beauty websites, The-Beauty-Pages is linking with BellaSugarUK to pick the best products to recreate the Autumn/Winter trends. The-Beauty-Pages Founding Editor, Louise Emma Clarke, talks us through the superskin trend. This is her exclusive blog for us:
"My favourite beauty trends are those that we can emulate with little effort or practice. Earlier this year, as I sat wide-eyed in the rows of London Fashion Week watching the Autumn/Winter shows, I was thrilled to notice a natural dewy skin trend. Fake tans and heavy foundation was gone, and beautiful glowing skin (the kind we all wish we were blessed with) was in. This look appeared on the catwalks of Roberto Cavalli, Aquascutum, Chloe, and Burberry — to name just a few.
If you currently mask less-than-perfect skin with foundation, it's easy to feel daunted by this trend, but do not despair. The models on the Autumn/Winter catwalk were not going makeup free by any means — they just looked like they were. Follow my simple tips and you will easily boast a fabulous dewy complexion. For how to get this look at home, just read more.