Catwalk Trend Purple Nail Varnish Like Butter London HRH Nail Polish Review
Product Review: Butter London HRH Nail Polish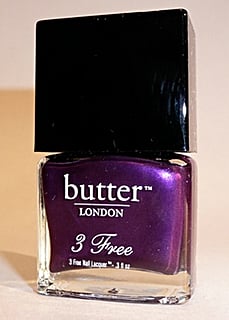 Butter London is one of those beauty brands that is fast becoming cult property. Although the company is actually based in Seattle, it offers a thoroughly British experience with quirky names such as Old Blighty and Chimney Sweep. Their creative director, Nonie Creme has worked on numerous A-list nails, including Kate Moss, as well as creating looks on campaigns for Vogue, H&M, and Jimmy Choo. This is one nail polish brand with serious fashion credentials.
I'm also pleased to note that it's not all about image. Butter London has a strong commitment to making non-toxic polishes. All of the polishes are free of the "big three" — toluene, DBP, and formaldehyde. It's a relief to know you needn't worry about toxicity in the quest to be beautiful.
In terms of colours, these are bang on-trend. After checking out my girl Bella US's favourite shades, I found it very hard to choose between Butter London's gothic glam black, patriotically called Union Jack Black and the royal looking HRH. I plumped for HRH, which is a rich purple that has a fantastic sheen. For how the varnish stood the test of time, just read more.
Firstly I have a confession, I'm actually rubbish at applying my own nail colour. Sometimes I feel more akin to a child playing with a paintbox than a wannabe makeup artist. I found the oblong shaped lid quite tricky to use as a brush, being used to a round-lid applicator. The brush itself is good though and again it does seem worth splashing out for more pricey polishes as cheaper ones often have brushes with loose bristles that get stuck in your artwork.
I was blown away by the colour; bright, glossy and with a depth that made it look as though I had amethysts for nails. Although purple nails certainly turns heads, the shade was sophisticated enough for work and a meeting with my bank manager. Plus it seemed to go with all my clothes, from a black lace cocktail dress to a red and grey striped top with jeans or a classic taupe-coloured coat. After five days of washing up, typing, pumping up the tyre on my Vespa and opening post there wasn't a chip in sight. Definitely fit for Her Royal Highness.