Celebrity Hairstylist Castillo Shares His Secrets
Here's What It's Really Like Doing the Hair of Countless A-List Celebrities
As POPSUGAR editors, we independently select and write about stuff we love and think you'll like too. POPSUGAR has affiliate and advertising partnerships so we get revenue from sharing this content and from your purchase.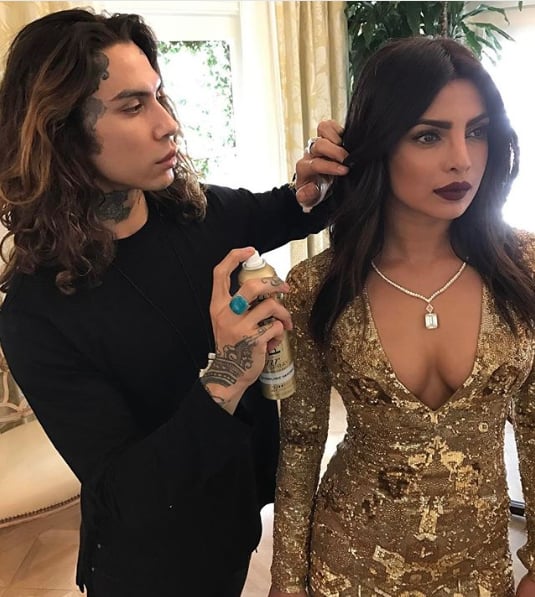 Castillo touches up actress Priyanka Chopra's hair at the Golden Globes.
Castillo is a celebrity hairstylist based in LA, and counts Ruby Rose, Priyanka Chopra, and Halle Berry among his A-list clientele. The following story was told to Kelsey Castañon and edited for length and clarity.


Growing up, I always wanted to do hair — I've got a design eye and creative side to my brain — but I didn't know I could make it a career. Turns out, it's just as amazing as I imagined. Even though, technically, hairstyling is more about the artistry and not going by the book, I went to barbering school in downtown LA and cosmetology school in Highland Park just so I could have my ducks in a row before getting into this line of work. After that, I assisted the hair artist Carlos Ortiz for three years, which is where I learned set etiquette and how to work fast on photo shoots. My idea of success was to own a salon or barber shop, or do the hair for the E! network.
Then in the beginning stages of my career, when I was interning at a salon, I got a phone call from a friend asking if I could come do a blow-dry for client of hers. When I got to the door, it was Lady Gaga. She was the first celebrity I ever worked with. I was not prepared or dressed for the occasion — I was wearing a t-shirt on that said "#1 Mom" or something! But I'll never forget it. It was the day after she finished filming the "Bad Romance" music video. There were all of these awesome wigs lined along the table. As I stood behind her doing her hair, they were going over the stills from the video, and I remember thinking, Is this really happening right now? It was such a rush, and it made me realise that this is something I need to pursue.
Forming Real, Meaningful Friendships
I'm fortunate enough to work with some great women. Like in any other situation, the more time you spend with someone, the more comfortable you feel. I've gotten close to Ruby Rose and Halle Berry; I would consider them friends. But I hope I have become the person that all my clients can call up whenever they need anything — I am always there to listen.
Moonlighting as a Bodyguard
Castillo (left) with actress Ashley Benson in 2013.
When I used to work with Ashley Benson and Selena Gomez, they were filming a movie called Spring Breakers, and we were all together in Miami at the Ultra Music Festival. Even though it was supposed to be fun, it almost felt more stressful than it was enjoyable to be there. As a male in a group of women, you naturally want to protect them because you never know which way the paparazzi are coming from. Plus, at 6', I'm taller than everyone, so I look like a bodyguard anyway. But I wanted to protect them from all those people trying to take their photos.

"I hope I have become the person that all my clients can call up whenever they need anything — I am always there to listen."
On Being Heavily Tattooed in Hollywood
My tattoos can be a bit of a negative sometimes, but in other ways, my appearance has helped me attract like-minded people. If a celebrity has a bunch of tattoos, like me, that means we share the same appreciation in art. We have an instant connection without even saying anything, because we know we have something in common. When I look back at my clients that have stayed with me, we all have tattoos. I just have a lot more! The one exception is Ruby — she has way more than me. The only difference is I have a tattoo on my face and she doesn't.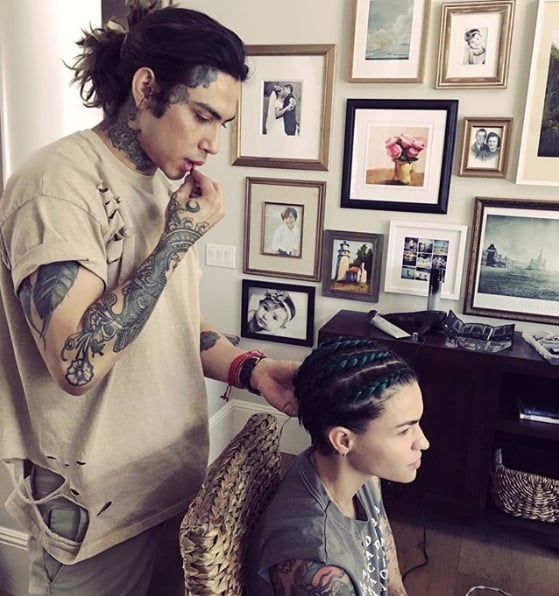 Castillo creates braids for his client and friend Ruby Rose.
The 1 Product He Can't Live Without
I always keep the Cricket Coconut Oil-Infused Hair Pick ($6) everywhere I go. It back-combs hair, but in a way that doesn't look tangled but still gives a lot of volume. It's a lifesaver.

"When I look back at my clients that have stayed with me, we all have tattoos. I just have a lot more!"
Giving Hair the Castillo Touch™
I've done a lot of hair backstage for New York Fashion Week, which helped me tap into the avant-garde side of what I do. When it comes to a client who gives me full range with my creativity, it's Erika Girardi [from the Real Housewives of Beverly Hills]. The great thing about her is that she has this persona on TV where she has to be presentable and a little more mainstream, but then there's also her other side, which is Erika Jayne, who is a performer and over the top. She understands the beauty in going big. She'll come in and be like, 'Castillo, give me something good.' And I'll bring my all — I'll come with wire, yarn, bags of extensions, whatever. I like to see what people are doing and then give it the Castillo twist. That's what makes my job so fun.
On Staying Humble
The very first pinch-me moment of my career was in 2015 when I got to go to Milan with Ruby, who was hosting the EMAs. There's so much to working behind the scenes with musicians. Being there and doing six different outfit changes and seeing Justin Bieber and all these other performers doing sound check, I just had to get my knees and thank God for everything. I couldn't believe I was there. I try to appreciate those kinds of moments as much as I can. I stay in gratitude. I keep my family first. I talk to my mom every day; she is a rock in my life and will not hesitate to knock me down and remind me of what's important.
Image Source: Courtesy of Castillo