Celebrity Skincare Guru Bharti Vyas Shares Beauty Secrets For Anti-Ageing Looking Younger
Bharti Vyas Shares Her Secrets to Growing Old Beautifully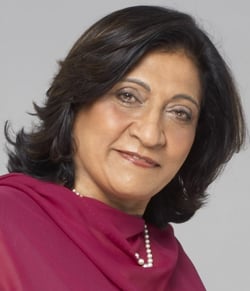 Skincare guru Bharti Vyas has just turned sixty-five, although you would simply never guess to look at her! With glowing skin and sparkling eyes, Bharti is one of UK's most respected holistic therapists. She's worked with numerous celebrity clients and is the beauty editor's first port of call for skincare advice due to her immense experience.
I was lucky enough to chat with Bharti about her re-launched Skin Wisdom range at Tesco and how to prevent signs of ageing on the skin. Plus she has some great insider secrets for getting your glow back.
What are you working on at the moment?
It is a very exciting time for me as I have just re-launched my Skin Wisdom range of facial skincare at Tesco and it now includes the wonderful Restore & Replenish collection. It is an incredibly nourishing range that works to counteract the signs of ageing; to help leave you with firmer skin that feels smoother and exhibits a radiant glow.
What advice do you have about keeping your skin looking young?
To prevent signs of ageing particularly on facial skin — the most exposed area of your body — try to avoid eating fast food and sleeping too little.
For what else you can do to keep your skin looking young, simply read more.
How important is a skincare routine?
It's vitally important! A good skincare routine will protect your skin from harsh weather and pollution which also results in signs of ageing on the skin, such as wrinkles, spots and flaky skin"
How can you keep the skin looking radiant?
The best way to maintain younger looking skin is to help the dead cell removal process that your skin goes through daily. As we get older it becomes more difficult for the skin to get rid of dead skin cells and as this happens, the epidermis —the outer layer of the skin, which is visible to us all — becomes greyer and wrinkly. Try Skin Wisdom Daily Care Smoothing Facial Polish (£2.39).
Any other tips on how to look younger than your age?
In addition to your daily skin care routine ensure you drink water regularly to help flush out waste toxins and eat foods rich in nutrients to help nurture your body.