Chanel Temporary Tattoo, Chanel Transfer Tattoo, Tattoo
Will You Be Getting a Trendy Transfer Tattoo?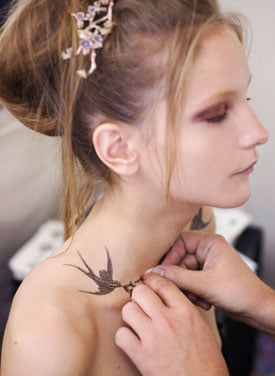 For those of you who are interested in testing out the goth waters, but are afraid to commit to anything more than a deep purple lipstick, get excited, because beginning 1 March, Chanel is launching their next affordable must-have beauty accessory called Les Trompe L'œil de Chanel, or, temporary tattoos.
They come in a sheet that contains a package of 55 different inkies that last about a week and are comprised of different Coco Chanel inspired patterns like birds, flowers, pears and necklaces that can be worn around the arm, ankle or thigh (how very Cheryl Cole of you Chanel)!
The entire sheet costs £49 and can be purchased in Chanel Boutiques and at Selfridges in London.
Do you think this is the sort of thing you'd be interested in accessorising your skin with?