Chantecaille Sylvie Personal Collection, Chantecaille Fall 2009, Chantecaille Autumn 2009 Collection
Chantecaille Launches Sylvie Personal 2009 Autumn Collection
Just out is the latest launch from Chantecaille called Sylvie Personal Collection. The range consists of four new products in the purple family (a popular colour trend this season) and was inspired by Sylvie Chantecaille, the founder of the brand. It is intended to be a fashion forward range for the chic and sophisticated, stylish city woman with gunmetal packaging and simple yet strong colours. The range isn't overly exhaustive, but I think the items are well chosen and it manages to pack a lot of punch.
The star product is of course Sylvie's Personal Palette (£75) which contains three powder shadows in a matte vanilla shade, a shimmery fawn brown, a brown-plum colour and a medium pink blusher, each embossed with a signature Chantecaille rose — a pretty and feminine touch (don't you think)? The shadows can be worn wet or dry and are although the colours are soft, they are rich in pigment so they show up better than you'd expect.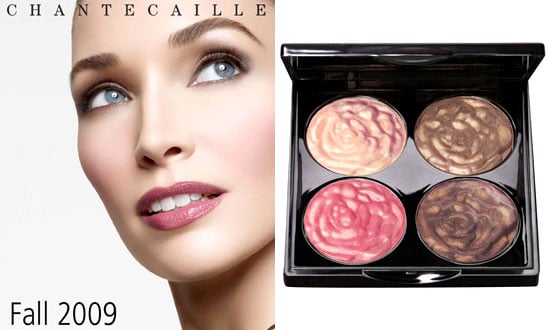 The collection is due out online this week, but until then you can buy it on counter at Fenwick, Harrods and SpaceNK. To see each of the products up close and for prices and a description of the complete range, read more.
Lip Chic in Heirloom (£24) is a brand-new, rich, creamy and deep berry shade that gives you the even and heavy coverage of a lipstick, but you also get the high shine and plumping effects of a gloss as it contains collagen give lips an extra added fullness.
Le Stylo in Dark Brown (£21) is an amazing and long-lasting liquid liner that's housed in an easy to use, super precise marker form. This dark brown shade is slightly softer than black and looks great on all skin tones.
Luminous Eye Liner in Viola (£19) is a dramatic purple-brown liquid eyeliner that contains pearls and tons of pigment that create a bold line on your eyes.
As I described earlier, Sylvie's Personal Palette (£75) contains three nuetral eye shadows and a medium pink blusher, each embossed with an image of a delicate rose.