Charles Worthington Dry Shampoo
Charles Worthington Results Balancing Act Dry Shampoo
I've had a bottle of Charles Worthington Results Balancing Act Dry Shampoo (£4.55) in my closet for some time now, but didn't try it out until last week. Boy am I bummed out that I waited so long — this product is nothing short of a savior in a bottle!
I'll start by telling you how awesome it smells. The scent is a clean, crisp, fresh and not overly flowery to mask your dirty hair smell (yes, I know that's gross, but it's true). Instead it actually seems like it's dry cleaning your hair and taking the odor away entirely. Also, it has a light and consistent mist that doesn't concentrate in just one area. I believe this is the reason why, (unlike some other dry shampoos) it won't leave your hair wet when you first spray it on, rather it simply and instantly absorbs any grease.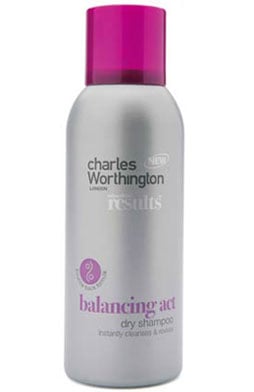 Lastly, what makes it stand out is that if you hair is fine (like mine) after going a day or two without washing, it tends to get limp. This helps give it texture and even a little bit of volume.
I won't tell you that this is some kind of miracle product, because it's not. It's just a really good dry shampoo that I'm excited to recommend. The effects won't last for 48 or even for 24 hours. In fact, depending on how oily your hair is, I'd give it about five to six hours max, which is enough to get you through an afternoon at work, or an event in the evening. After that ladies, I'm afraid you're going to have to bathe!
Do you have a favourite dry shampoo? If so, share it with me and the rest of the world in a comment below.