Cheryl Cole Hair 2009-10-06 06:00:00
How To: Cheryl Takes Pride in Her Beautiful British Hairstyle
The red carpet was filled with British beauties last night at the Pride of Britain Awards. Stars like Mel B. and Louise Redknapp showed up in colourful frocks, whilst Cheryl Cole arrived wearing a black corseted minidress and bold red lipstick (a trend we know still remains a fash pack fave). However, it was Cheryl's hair that had me doing a double take. Her curly, low ponytail was chic, sexy, voluminous and different than the other do's everyone else donned.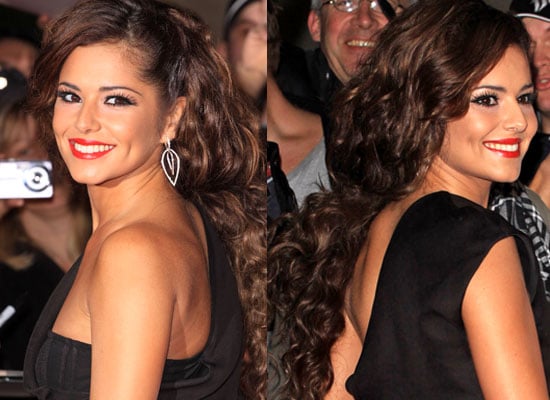 To find out how you can recreate her hair in four easy steps, including product suggestions, just read more.
STEP 1: Begin by washing and conditioning hair with a curl enhancing product like Mark Hill Salon Sexy Curls Shampoo and Conditioner (£4.99 for each).
STEP 2: Next, dry hair with a diffuser. When hair is 85 percent dry, apply a generous amount of Umberto Giannini Shapely Curl Friends Mousse (£4.69) from the roots to ends. Then, part hair to the side and using a two-inch curling iron, curl small sections of hair right up to the roots leaving the tongs in place for at least ten seconds. Secure the section with clips.
STEP 3: Remove the clips and let the curls fall loosely. Take a pinch more mousse and apply it to the roots and mid-lengths of the side that you are going to pull off of your face. Brush it back (not all of the way through as you don't want your curls on the ends to frizz) and secure the section with criss-crossing bobby pins.
STEP 4: Finally, use a clear elastic to hold the ponytail together loosely towards the middle-ends. Lastly, style the front of your hair that isn't pulled back and let a few tendrils fall. Finish with a heavy mist of Andrew Collinge Weightless Volume Thickening Hairspray (£4.20) all over.