Cheryl Cole's birthday, get her hair look - messy pony tail with plaits
Hair How-To: Cheryl Cole's Plaits with Pony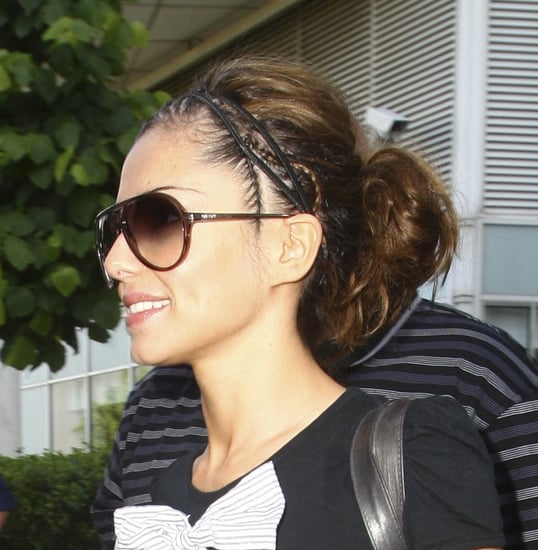 I'm pleased to note that Cheryl Cole seems to have toned down the fake tan, and gone easy on the Barbie-girl hair. Oh and happy birthday for today, Cheryl, too!
She looks bang on-trend here with a multiple strand hair band, mini plaits and a messy, looped pony. I prefer her hair darker too. A few years ago I was lucky enough to style Cheryl for a photo shoot and she was not only very sweet, but also a lot less high maintenance, beauty-wise, than you'd think. So follow her lead with my easy peasy hair how-to guide:
STEP 1: Prep the hair before blow drying with a volumising mousse, such as Frederic Fekkai More All-Day Density Styling Whip, (£19).
STEP 2: Now's the time to do the mini plaits. Take a few strands of hair near the crown and plait into tight, neat sections. You don't need to fasten these with a bobble as if you've used enough product (or you're not working on freshly washed hair) they should hold themselves.
STEP 3: Add the hair band. Wear it close to the face like Cheryl. This will keep the plaits in place and give you room to create some volume with the pony.
STEP 4: This is a baggy, messy pony so don't worry about making it too perfect. Just scrape hair back with your fingers and knot with a hair bobble.
STEP 5: To create the loop, pull some hair strands all the way through as you would with a pony, but leave most of them tucked into the bobble.
STEP 6 : Add some texturiser, such as the new Shu Uemura's Art Of Hair Texurizer and fluff up the hair with your fingers.