Christian Siriano NYFW Glitter Tears Autumn 2017
Were Christian Siriano's Orange Glitter Tears a Nod to America's Current Political State?
You know what happens when goth girls cry? They leave a trail of glitter down their cheeks. Or at least that was the case for the models at Christian Siriano's Autumn New York Fashion Week 2017 show. The makeup inspiration was "goth girls walking in Fire Valley."
For the glitter eye look, artists used a rich burgundy colour from MAC's Autumn 2017 Forecast Palette (not yet available) and then topped it with a generous coating of its Reflects Copper Glitter (£16), which dripped from the models' eyes at the outer corners. Artists smoked out the look and added layers of mascara. To keep the emphasis on the eyes, brows were kept natural and lips were topped with a nude.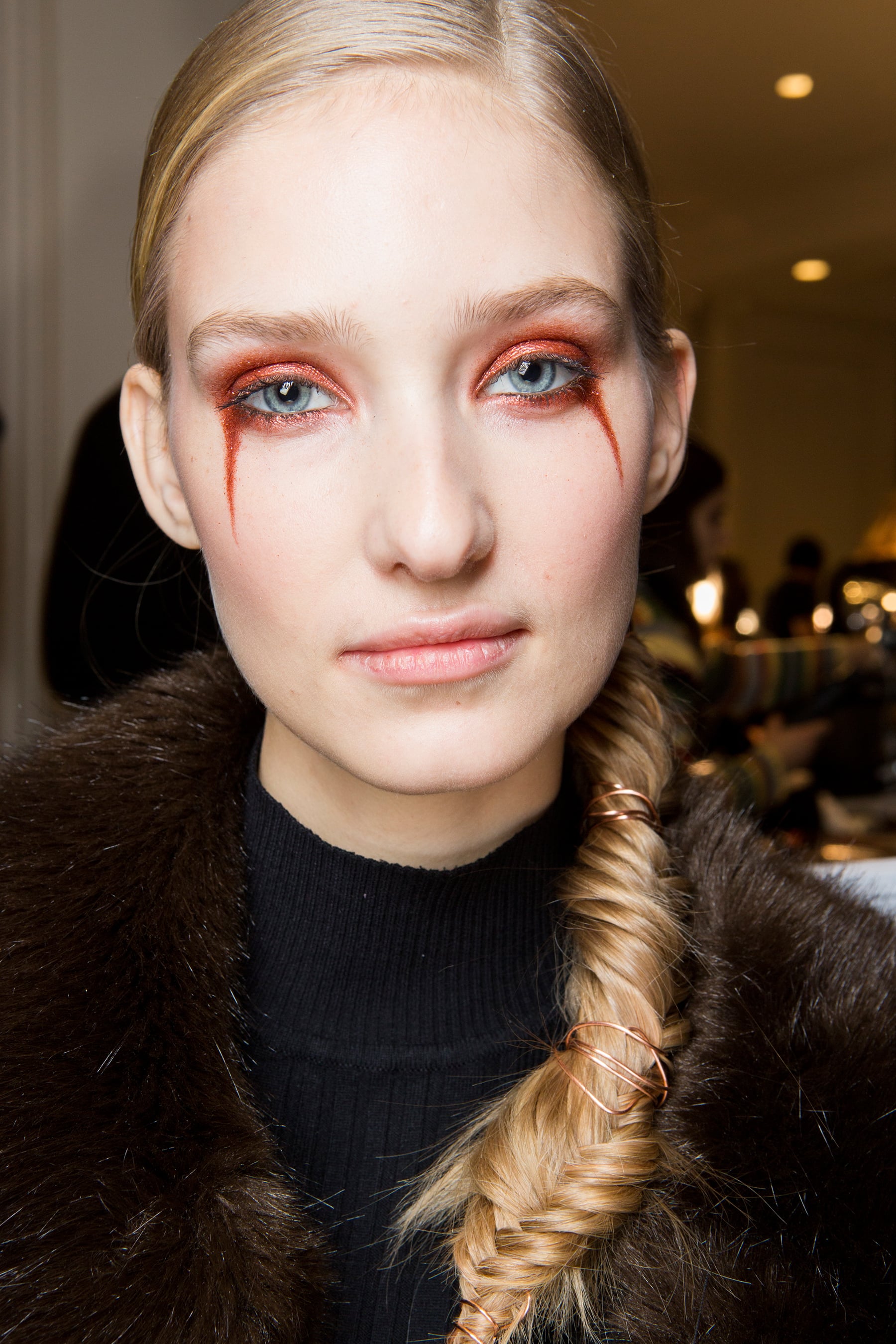 Backstage, Polly Osmond — lead makeup artist for MAC Cosmetics — explained that those glitter tears in "really deep red and orange tones" were inspired by the twisting, colourful rocks in Nevada's famous desert valley. And while that was clearly where the earthy tones for this look were pulled from, we speculate those glitter tears pouring down every model's cheeks were also a very deliberate nod to America's current political state.
That assumption was further corroborated once we saw that Christian sent a model down the catwalk sporting a black t-shirt with "People Are People" emblazoned across the front in white block letters. Nobody can deny that was a direct statement against the increased racism and sexism America has seen over the last months. And also, we can't ignore the fact that those tears were orange.
While the pairing of glitter tears and the statement shirt evoked a sense of sadness, it was also a really empowering, hand-to-the-face moment. Moral of the story: you can cry and you can be fierce while taking a stand for what you believe in.