Christmas 2008 Darphin Gift Set Cofret Glam and Rock Longchamp Present Ideas. Luxury Beauty Christmas Limited Edition Collection
Darphin Goes Glam Rock for Christmas
I'm starting to get a little carried away with all the gorgeous beauty goodies that are hitting the shops for Christmas. Despite the threat of the credit crunch, beauty companies are still going all out in producing luxurious gifts and pretty sets that are sure to wing their way to the top of your wish list. If you have a very rich boyfriend, or your family are totally stumped for what to buy you and are happy to club together to get you a gift; then ask for Darphin's Rock & Glam clutch (£350).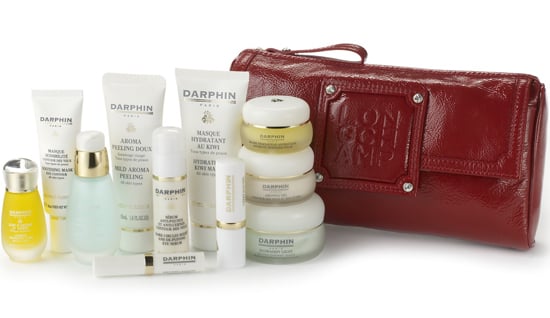 Being touted as the ultimate in skincare presents, this limited edition set was produced in association with leather goods label Longchamp. The dark red patent purse is a covetable clutch in it's own right, as well as being the ideal sized makeup bag to carry all your chic beauty essentials in. It's packed with some very delectable skincare delicacies too and is available now. For a round up of the products, just read more.
I'm a big fan of Darphin and this a great set to get you (or a much loved friend) started. The pack includes Hydraskin Intensive Moisturizing Serum which immediately softens and hydrates the skin, as well as Rose Aromatic Care which adds radiance and guards against environmental assaults. The Hydraskin Light Gel is a refreshing treat that's ideal when traveling, plus the Soothing Mask Eye Contour is great for de-puffing post-party skin.
An expert eye gel, dark circle serum and lip balm make for fantastic extras. There's also an intensive SOS for your skin in the form of the Aromatic Renewing Balm, plus the fabulously indulgent Hydrating Kiwi Mask. The set comprises of eleven products in total, including a mild exfoliating peel and radiant 'touch-up' skin for a luminous glow. You might want to start writing to Santa right now.