Christmas 2008 Perfumes Michael Kors Very Pretty Fragrance. Product Review Beauty Blog BellaSugar UK
New Product Alert: Michael Kors Very Pretty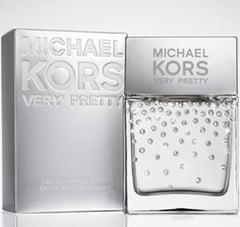 In the run up to Christmas, which crazily enough has already started on planet beauty, I'm being practically bombarded with information about all the new perfume releases. Personally I'm not really interested in celebrity endorsements when it comes to scent. Instead I'm looking for an distinctive smell that has lasting power, plus a bottle that will look beautiful on my dressing table.
Cue Michael Kors Very Pretty (£40), which is available from 1st November. The packaging has a winer wonderland feel with a modern silver and glass bottle that looks unusual thanks to those snowball-esque sparkling crystals. The box is sleek and silver too, and while some cosmetics companies go way over the top with their Christmas-themed approach, this is a restrained and sophisticated offering.
The juice itself has a young, fresh appeal. They've taken the original Michael Kors fragrance and given it a makeover with a mixture of zesty citrus notes and white florals to keep it feminine. The inclusion of coconut in the ingredients is an unusual, and somewhat brave choice, but it's pretty subtle so there's none of that holiday suncream whiff that I was dreading. The creamy, musky tones are nicely balanced out by orange flower making this an appealing fragrance for someone in their twenties or thirties.