Christmas Gift Ideas For Mothers To Be. Beauty Presents For Pregnant Women
BellaSugar's Gift Guide: Your Perfectly Pregnant Friend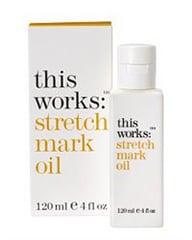 For the next installment of mine and Fab UK's Christmas gift guides, we're thinking about mothers to be. If your best friend is just about to have a baby or you want to treat a pregnant colleague, then these pampering goodies are sure to be greatly appreciated. I especially love This Works Stretch Mark Oil (£32) which is perfect for warding off stretch marks and circulation issues.
If your mum-to-be mate is heading to the sunshine over the holidays, then treat her to Belli Anti-Chloasma Facial Sunscreen SPF 25 (£24). It protects against chloasma — those dark brown splotchy areas on the face that occur in 70 percent of pregnant women. Featuring zinc oxide and titanium dioxide it is undeniably one of the safest sun screens to use when pregnant.
Finally remind her how glamorous she is with a luxe lipstick from YSL (£18). This is a show-stopping red that will suit most skin tones. If you have any ideas for gifts for would-be mums then it'd be great if you share them with us in the comments section.