Ciara on the Power of Hair, a Great Concealer, and Black Lipstick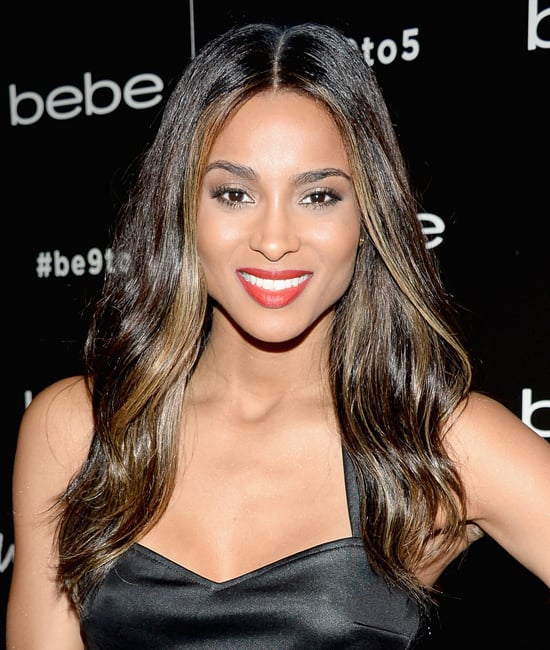 Upon our first glimpse of Ciara, the singer was running the steps from her "Body Party" video in front of the dance studio mirror — in heels. If you've ever tried to pull off a body roll in four-inch stilettos, then you know how hard she was working. We recently chatted with the dancing queen as she starts a new partnership with Degree Women's DO:MORE campaign. "It's about encouraging and inspiring women to do more," she says. "Being a hardworking woman, I can identify with that. There's so much room to grow and to make a difference when you do more."
Ciara has been dancing and singing in the spotlight since she was 14 years old, and this Sunday she'll be walking the carpet at the MTV Video Music Awards. She wouldn't give away the details of her look, but she promises something a little rock 'n' roll. What Ciara did reveal were her top makeup tip, her hair philosophy, and the fatherly advice that's stayed with her from day one up to now. Read about it all after the jump.
Ciara is most known for her dance house hits that make you want to bounce, but she has a little makeup know-how, too. "If you're just running out and you don't want to wear any makeup, just throw on a small little bit of concealer underneath your eyes and it gives you a lift," she says. And while some women are all about the neutrals, Ciara isn't afraid to fade out to black. "Sometimes you need to have a little funk and attitude. I love reds. I love darks. I love an almost purplish-black."


Another place where Ciara's sassy side comes across is her hair. You may notice that Ciara is rocking a much longer, darker coif than the short blond bob she was seen in recently. That's because for her, hair is a form of expression that reflects the attitude she wants to give off. "I think a woman's hair is everything. I feel like without a great shoe you don't have a great outfit. I feel the same way about our hair," she explains. "When I wore my hair blond and short, I felt a little feistiness, an edge."
After a three-year gap between records, the singer recently released a self-titled album, Ciara. "My dad always said, 'Save for a rainy day, shug.' And it's very true. I've had time periods where I may have taken a longer break than I wanted so that's important, especially being a businesswoman."
Her talent in business, dance, and music has allowed her to stick around in a fickle industry. "I'm very proud of pushing when people may say no," says Ciara. "When you want to win, you'll push yourself as hard as possible to do it. It's about leaving it all out on the dance floor." Well said, and we're happy to say all that hard work has paid off because from where we're sitting, Ciara (who has taken home a Grammy and released five albums — one of which went triple platinum) is winning.