Clarins Sun Wrinkle Control Cream High Protection Sun Cream for Sun Sensitive Skin
Product Review: Clarins Sun Wrinkle Control Cream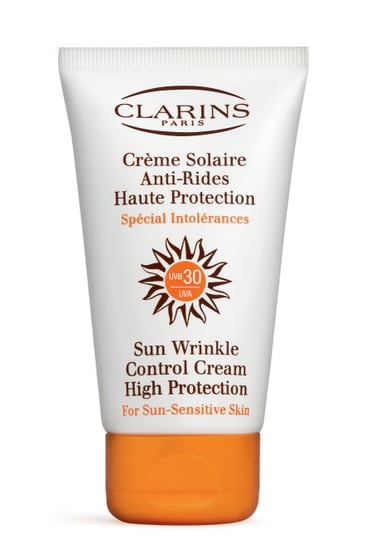 The idea of seeing a product in my bathroom cabinet with the word 'wrinkle' on it, makes me feel a little uneasy. Although, as it's from Clarins, I am slightly more forgiving.
The very long-named, Sun Wrinkle Control Cream High Protection For Sun-Sensitive Skin, (£15.50), is a facial sunscreen, with an SPF 30. It has been specially formulated for skin that is often allergic, or sensitive, to sun cream, as well as for very pale skin that needs a lot of protection against damaging UVA and UVB rays.
Frankly though, unless you have black or very deep olive skin (in which case you should still use sun cream, but with a lower SPF), we should all be wearing an SPF 30 every day, especially in the summer. After just a few weeks of wearing a facial sunscreen, I started to see the difference on my skin. For why, just read more
The Clarins Sun Wrinkle Control Cream, has a great texture – thick, but not sticky or gloopy in any way. As well as UVA and UVB filters, it includes plant extracts which aim to build up the skin's resistance to sunlight.
After using this everyday for about six weeks, my skin actually looked younger, and the overall tone was more even. It has a great, smoothing effect that seems to mask fine lines.
I know it's more expensive than some sun creams, but for Clarins, I think it's very reasonable. Sun cream is one product where I really believe it's worth spending money. This is your skin, we're talking about, after all.
On holiday with friends, I've noticed that those who wear a more expensive sun cream tend to need to reapply less often, and also don't go red, despite sitting in the heat. At least for the face, it really is worth using a good quality product.