Clean Beauty Frappuccino Body Bar | DIY Beauty Recipe
Step Aside, Coffee Scrubs, Frappuccino Body Bars Are the Newest Shower Coffee Fix
Don't get us wrong, we love a coffee scrub, as do the natural beauty gurus at Clean Beauty Co. But if something was to rival our trusty exfoliating hit, we're pretty sure this Frappuccino Body Bar fits the bill. Rejiggering the scrub into a bar form that is the perfect size for a full-body scrub (whether that be post-workout or post-hangover to scrub away regret), this Clean Beauty Co. recipe in a DIY no-brainer. Not only will your body benefit from a classic coffee scrub, but it'll be complemented with a rich butter. High in vitamin C, your scrubbed self will feel moisturised, and grapefruit and geranium oil will stimulate blood flow and circulation. Along with a coffee kick, that's one hell of a morning clean. And if you want a tipple on the side while you DIY your body bars, we can make a suggestion too.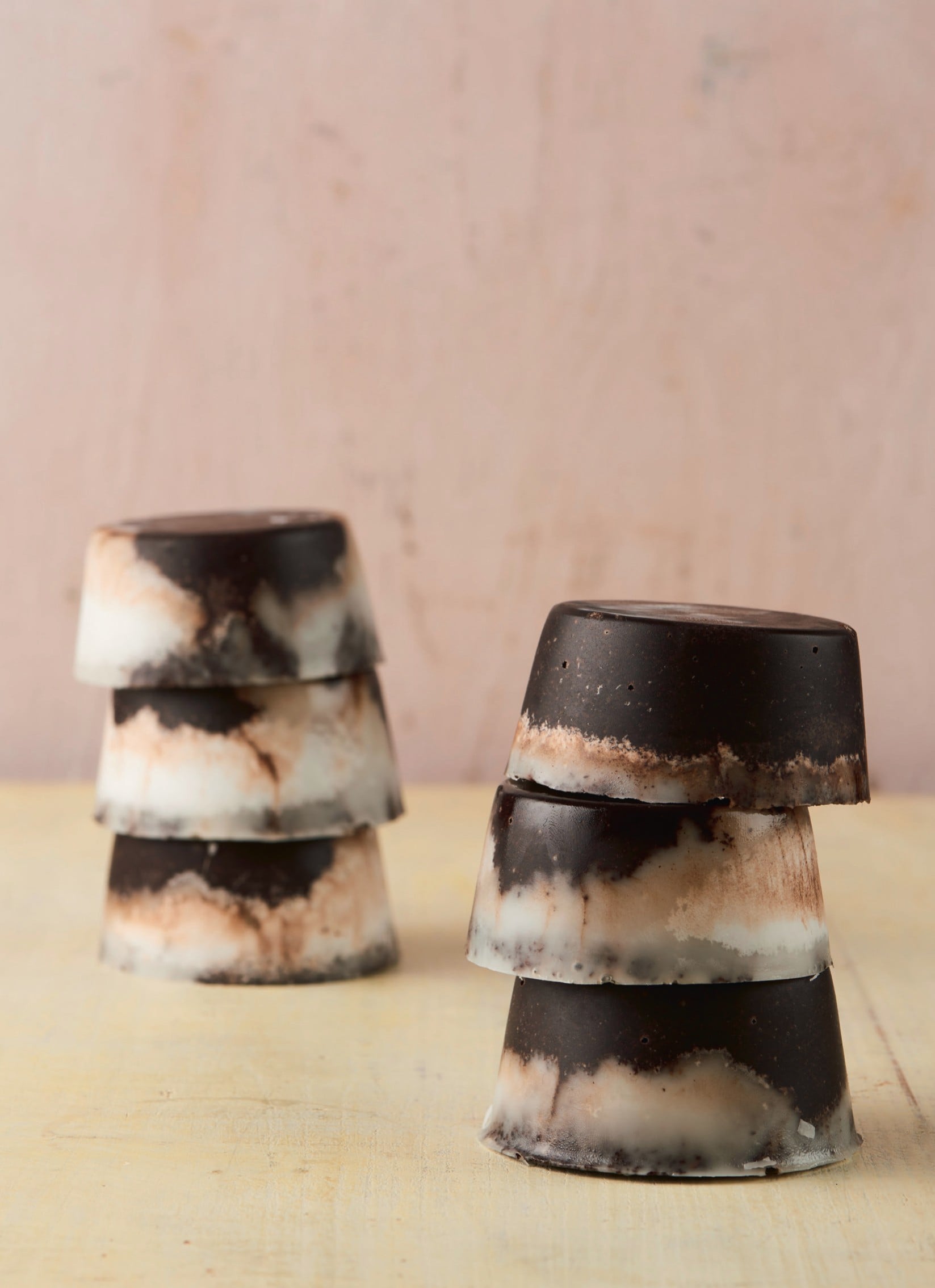 Makes: 10 bars
Shelf Life: 6 months in an airtight container
What You'll Need:
85g shea butter
80g ground coffee
85g coconut oil
5 drops geranium essential oil
5 drops grapefruit oil
Directions:
Divide the shea butter in 2 and put 1/2 to one side.
Melt the other 1/2 in a bain-marie.
Add the coffee and stir well, then spoon the mixture into a small silicone muffin tray. (We suggest 3 x 3 cm.)
Leave a gap at the top of each, the idea being the coconut oil will sit on top and form a white layer, and place in the freezer to cool.
Melt down the coconut oil and the remaining shea butter in a bain-marie.
Add the essential oils and stir well.
Once the coffee is solid, remove from the freezer.
Pour the liquid coconut mixture on top of each "muffin."
Place in the fridge and again allow the entire mixture to solidify.
Keep in the fridge and use when you need.
This recipe was snatched from the pages of Clean Beauty: Recipes to Manage Your Beauty Routine Naturally (£18).