Clinique Summer 2009 Sun Products 2009-05-08 07:30:00
Keep Your Skin Safe This Spring and Summer With Clinique
Clinique has just launched its range of sun care products for Spring and Summer 2009. The first collection, Cinique Sun with Solar Smart includes seven oil-free and sweat-resistant products designed to protect the skin from both UVA (the sun rays that cause early signs of aging) and UVB (the rays burn your skin) without clogging your pores. They come in bright, sunny yellow packaging with a hefty quantity that makes it well worth the splurge.
The second collection, Self Sun, contains six items for the face and body designed to fake the glowy radiance of a bronzed tan without having to risk sun damage. The products don't streak, don't have a super-strong scent (the way that other leading self-tanning products do) and they impart a natural colour that you can build on until your reach your desired (deep or light) colour.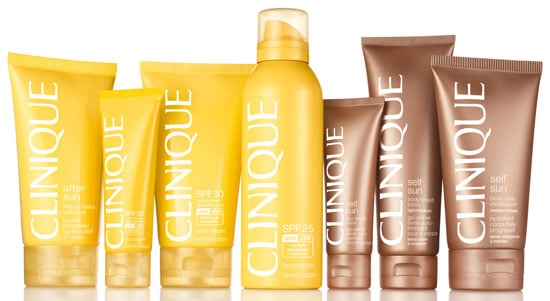 I have fairly sensitive and reactive skin, yet and so far, none of the products have caused breakouts or irritation. All products are currently available online and will be in store by the begging of June. What's your favourite sunscreen?
For pricing information and for pictures of each of the products, just read more.
Sun Care With Solarsmart Collection:
SPF 30 Face Cream (£13.50)
SPF 30 Body Cream (£15)
SPF 40 Face Cream (£13.50)
SPF 40 Body Cream (£15)
SPF 15 Face and Body Cream (£15
SPF 25 Body Spray (£15)
After Sun Rescue Balm with Aloe (£15)
Self Sun Collection:
Face Tinted Lotion (£15)
Face Bronzing Gel Tint (£15)
Body Tinted Lotion (available in Light/Medium and Medium/Deep, £15)
Body Daily Moisturizer (available in Light/Medium and Medium/Deep, £15)
Body Airbrush Spray (£15)
Almost Bronzer SPF 15 (available in Light/Medium and Medium/Deep, £21)