Clinique Vitamin C Lip Smoothie Antioxidant Lip Colour
New Product Alert: Clinique Vitamin C Lip Smoothies
Just a few days ago I was introduced to my new lip obsession from Clinique called Vitamin C Lip Smoothie Antioxidant Lip Colour (£13.50). I've been using fig-a-licious, a medium rosey-berry hue with silver gitter particles. It's just about one shade deeper than my natural lip colour, so it gives me a perfectly fresh, minimalist makeup look when paired with two coats of black mascara and some blusher.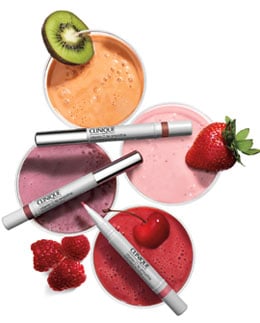 The texture of the gloss is substantial. It's not terribly sticky, but not runny and thin either. It glides on smooth and the built-in brush makes application a cinch. To be perfectly honest, I don't even need to use a mirror!
The best part still is that the formula is good for you. It contains antioxidants like acai berry, pomegranite and of course Vitamin C to help fight off the little lines in your lips that cause premature ageing.
The glosses are already available for purchase online in six shades, and three more will be added beginning 1 August with the in-store launch. Check out all of the swatches here, and let me know which one you're most excited to try in a comment below!