Credit Crunch Beauty The Body Shop Offers 50% Discount
Credit Crunch Beauty at The Body Shop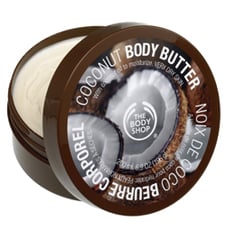 It's time to snap up some beauty discounts in preparation for the festive season. The Body Shop is one of my favourite beauty hangouts; the products smell gorgeous and the staff are so sweet! Now it's offering a whole host of recession-proof discounts that means you don't need to scrimp on your beauty routine, no matter if money is tight.
From this Thursday until Sunday 9th November, The Body Shop is selling half-price Coconut Body Butters. I'm a huge fan of these body lotions, as they're ideal for soothing dry winter skin. The 200ml pots are now £6.25 instead of £12.50 when you shop in store or online. The butter, which has a celebrity following, contains natural coconut oil, as well as Community Trade shea butter and Cocoa Butter from Community Trade cocoa beans from Ghana.
In addition, The Body Shop is offering all it's online customers 10% off any website purchases until the 31st December. It's great for stocking up on some of their gift sets, which at £10 or under are good value and still feel luxurious. I have to admit I'm tempted to splash my tight budget on the Cheek Blush (£9) in Raspberry Pink or their classic Vitamin E Moisturiser (£12).
All you need to do is to click on the site. Then choose your favourite products and add DHAD000451 at the checkout to receive your discount. Happy shopping!