DIY Facial Tips and Tricks
Get a Luxurious Spa Facial at Home in Only 30 Minutes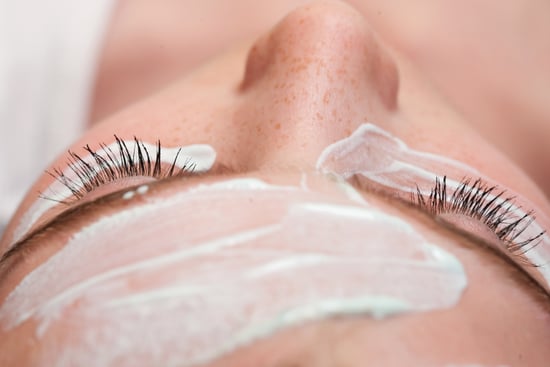 Sometimes you don't have the time (or extra pounds) to schedule a professional spa facial, but you can give yourself a DIY treatment at home in only 30 minutes. We talked to Elemis International Trainer Emer Gillen to get a step-by-step guide to doing a high-quality minifacial from your bathroom. So, pull out the classical music, your fluffiest bath robe, and aromatherapy candles; it's time to head to the bathroom to treat yourself. You'll learn the right way to give yourself a face massage, along with Gillen's secret to getting rid of tired eyes when you keep reading.
Step 1: Deep Cleanse
Start by cleansing your face of dirt, makeup, and pollution from the air. "I like to take my at-home facial routine into the bath," Gillen says. "The steam from the bath relaxes the skin to get a softening effect, and also aids in the absorption of the products." Following up with a toner will make sure all the dirt is removed.
Step 2: Massage
"A facial massage is like taking your face to the gym! It stimulates microcirculation, reeducates [tones] facial muscles, and firms and lifts," Gillen explains. "Always use upward, folding, stroking movements, and don't forget to also concentrate on the neck and jawline." Start with an oil like Elemis Cellular Recovery Skin Bliss Capsules (£62). Use your thumbs to stroke from the center of the face outwards, going under and over the jaw, cheek, and brow bones. Putting pressure on these areas helps drain the lymphatic system (which means no more puffy face). Then, use ring fingers to make a circular motion starting at the temples, moving inward and under the eyes.
Step 3: Exfoliate
How often are you exfoliating? Chances are you could do it more often. "I think a lot of women do not exfoliate as frequently as they should and then try to compensate by using a product that is too harsh and often use it too vigorously in their scrubbing action," Gillen says. Opt for an enzyme peel over a harsh scrub, and leave on for 10-15 minutes.
Step 4: Mask
Choose your favourite mask and relax for 10-15 minutes to really let it penetrate. You can find different formulas, from acne to moisturising, to fit your skin's needs. "I do love fridge-cool slices of cucumber over my eyes when they are feeling a little puffy and tired," Gillen adds. Do a second toning treatment to make sure all of your products are cleared and your pH is balanced. Finish it all off with a moisturising cream.