Daenerys Targaryen Game of Thrones Makeup Tutorial
You Better Bookmark This Daenerys Targaryen Makeup Tutorial For Halloween
As POPSUGAR editors, we independently select and write about stuff we love and think you'll like too. POPSUGAR has affiliate and advertising partnerships so we get revenue from sharing this content and from your purchase.

Image Source: YouTube
The next episode of Game of Thrones might not come until — deep breath, now — 2019, but at least there will always be YouTube. The latest GOT makeup tutorial we're loving pays homage to Daenerys Targaryen's subtle, natural look. It comes from Jessica Vill (aka Jbunzie) who has convincingly transformed into everyone from Selena Gomez to Ariana Grande. This time around, she could seriously pass for Emilia Clarke's twin.
Jessica used just a few makeup products very strategically, including the Urban Decay Naked Basics Palette (£24) to copy Khaleesi's brow and eye structures. Then, she used Besame Cosmetics Chocolate Kiss Lipstick both on her cheeks and lips, smudging out the edges to get that perfect blotted, just-kissed look. One brilliant tip she divulged was to stuff cotton into your upper lip for a "temporary lip job" that emulates Emilia's own natural fullness.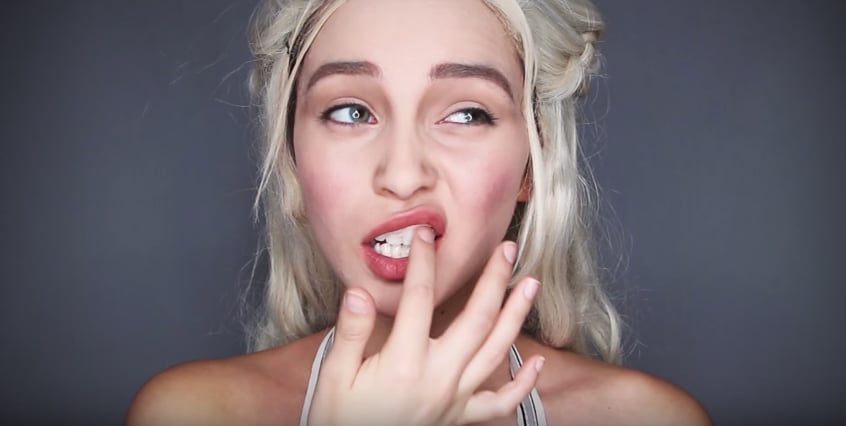 Image Source: YouTube
Now, all your missing for your Halloween costume is a wig, dress, and your very own Jon Snow. Watch the full tutorial, below.