Darphin Predermine Wrinkle Corrective Serum product review from BellaSugar UK
Product Review: Darphin Predermine Wrinkle Corrective Serum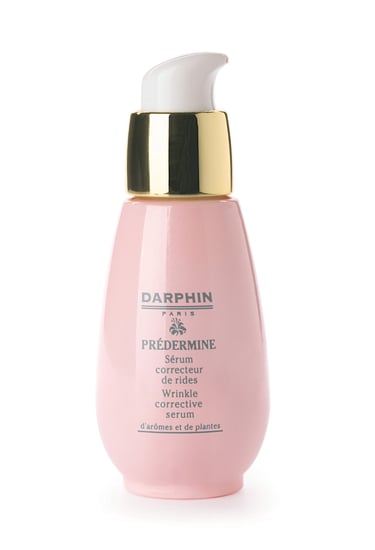 I'm lucky and young enough not to really need anti-wrinkle products just yet, despite the fact that so many of my friends started using them at age 25. Perhaps time will tell and I'll be the old bag in the corner!
Don't get me wrong though, it's important to start looking after your skin in your twenties and thirties, and wearing a daily sunscreen, so you hopefully won't need so much help post-40 – but I don't believe in over-loading skin with too many products.
So I tend to get my mother to trial the anti-wrinkle products so that you're not going to be misled by over-zealous press releases. She is from the soap-and-water brigade of skincare, but recently has a new-found love affair with Darphin. My father can hardly get into the bathroom! Despite that, I'm hearing good things about the Darphin Predermine Wrinkle Corrective Serum, (£120). For why, just read more
Darphin's best-selling, anti-ageing serum is designed to be used before your usual moisturiser, both morning and evening. Yes, I know this makes your routine a little longer, but according to Ma BellaSugar, it's all worth it. It aims to boost hydration and increase firmness and plumpness in the skin. The serum contains oligiopeptides which boost natural collagen production, vitamin E, which works as an antioxidant and a lipid complex containing avocado and melon extracts.
In Darphin's tests, there was a 72% increase in the strength of the skin's moisture barrier, and I'm not exactly sure how they could measure that, but my mum said her lines looked a lot less noticeable and had an almost 'filled-in' appearance.
Darphin is a great brand for sensitive skin too, and while their products are pricey, you only need a tiny amount, so they last for ages. Look out for their new Predermine anti-ageing cream for dry skin that'll be out in September. My father is dreading it...