David Koma Beauty
Would You Ever Feature Your Sideburns?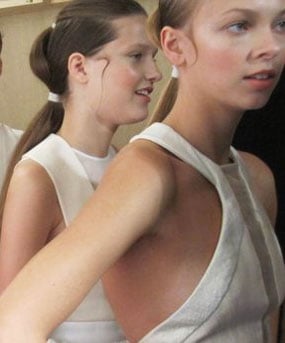 Yesterday morning, at David Koma's 2011 Spring Fashion Show, models had their hair styled in teenage-inspired double ponytails with long, ironed lengths. The look from afar seemed fairly straightforward, however from where I was sitting (lucky me snagged a front row spot) I saw something quite shocking. Would you believe that the models had s-shaped sideburns glued down to the sides of their faces and then enhanced with kohl eyeliner pencil!
I tend to tuck my sideburns behind my ear and have never considered working them into my hairstyle. What do you think of of this look?