Denise Van Outen and Bionsen Deodorants
Denise Van Outen Is The New Face of Bionsen Deodorants
Denise Van Outen has been named the latest spokesperson for the Bionsen Deodorant range. These four Japanese deodorants have been developed as a healthier option for those concerned with body odour, and Denise has been asked to help educate women about the difference between deodorants and dangerous anti-perspirants.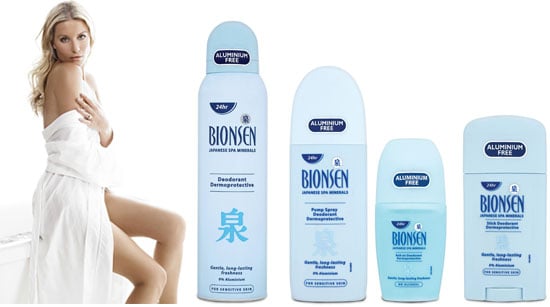 For example, aluminum is a potentially hazardous ingredient in all anti-persiprants. It works to prevent skin from sweating by clogging your pores, which in time, may lead to serious problems like cancer. Since Bionsen is both aluminum and paraben free, it allows your skin to breathe. Instead, the range contains a gentle fragrance and nourishing ('Onsen') minerals found in the volcanic spas of Japan. They are created for all skin types and leave your underarms feeling cool and smooth.Charlotte Smith from Bionsen said,

"We are delighted to have Denise on board because she's a natural beauty and embodies just what Bionsen stands for. A positively beautiful and natural role model to young women all over the world, Denise is also admired for her great work to support breast cancer charities and will act as the perfect ambassador for Bionsen."
Additionally, 10 pence from every sale off of this site will be donated to breast cancer research. For pricing information on each of the four products and to find out what Denise has to say about her new gig, read more.
Deodorant Stick is 40ml and costs £2.49
Deodorant Roll-On is 50ml and costs £1.99
Deodorant Pump Spray is 100ml and costs £2.49
Deodorant Aerosol Spray is 150ml and costs £2.99
Denise said,

"When I was asked to be the face of Bionsen I didn't even have to think about it as it stands for an issue close to my heart. The entire Bionsen range is free from harmful chemicals, aluminium and paraben, which have been linked to breast cancer. Having lost my grandmother to breast cancer, it's important to me to raise awareness of the issue and if I can use my celebrity status to do that, then that's great. As the face of the brand, I want to get women thinking about the issue and encourage them to make informed choices. Any woman who buys a product from the range during Breast Cancer Awareness month in October, will be supporting the cause."