Diane Brill
Bella Brand: Dianne Brill
Relatively new to the UK (although it's been around in the US since 2003) is a makeup collection from Dianne Brill. Be warned that this is not your average range of perfume, skin care and colour. It's for someone who lusts after lingerie, fake lashes, fishnet stockings and all things girly! Dianne, a forner Thierry Mugler and Warhol muse, Gaultier and Vivienne Westwood model and stylist for Duran Duran, The Stones and Prince, has mixed pin-up girl packaging with advanced formulas to create a full range of sexy and stylish cosmetics.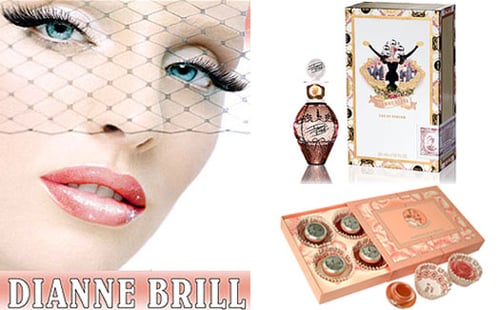 The presentation is adorable and flirty. The false lashes sit in a stackable mini-hatbox, the foundations come in lace doilies and my favourite is a box of high-shine gloss pots made to look like cupcakes. However, the line isn't all frills and giggles. Dianne, a self- proclaimed "chemist groupie," substantiates her goods by using unique ingredients such as simulated snake venom, freshwater pearls and oodles of vitamins that plump, hydrate and brighten.
If you're looking for a creative way to pamper yourself this Valentine's Day, try her Lash Extensions Lash Kit — it's like lingerie for your eyelashes!
To see more pictures from the collection, read more.